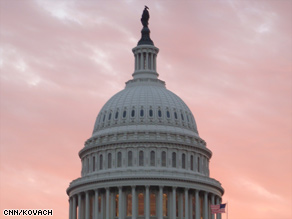 CNN: Debate poll says Biden won, Palin beat expectations
A national poll of people who watched the vice presidential debate Thursday night suggests that Democratic Sen. Joe Biden won, but also says Republican Gov. Sarah Palin exceeded expectations.
Washington Post: Palin Delivers, But Doubts Linger
Alaska Gov. Sarah Palin spent much of the past two weeks on the defensive, hounded by critics over halting performances in television interviews and questioned even by conservative writers doubtful about whether she is ready to be vice president.
CNN: Biden puts McCain, not Palin, in cross hairs
Sen. Joe Biden was debating Gov. Sarah Palin on Thursday night, but the Democratic vice presidential candidate known for attack-dog instincts saved his bites for Sen. John McCain.
CNN: Debate leaves some young voters unsatisfied
At the Hard Rock Café on Thursday, it was clear who won Palin Bingo.
The game was the focus of a group of four friends, all in their 20s and early 30s, as they put Xs in boxes containing keywords they anticipated Gov. Sarah Palin might say during Thursday's vice presidential debate.
CNN Radio: Biden, Palin charge rhetorical flux-capacitors in last night's VP debate
It was a vice presidential debate that spoke to another time. And meanwhile, Congress is carefully watching time and counting votes. Lisa Desjardins has today's CNN Radio Political Ticker.
AP: Palin stands her ground in VP debate with Biden
Under intense scrutiny, Republican vice presidential candidate Sarah Palin stood her ground Thursday night against a vastly more experienced Joe Biden, debating the economy, energy and global warming, then challenging him on Iraq, "especially with your son in the National Guard."
AP: Some facts adrift in vice presidential debate
Republican Sarah Palin criticized a version of a Barack Obama health care plan that doesn't exist and Democrat Joe Biden clung to a misleading charge about Republicans and big oil when the two clashed in the vice presidential debate Thursday.
Washington Post: Courting Middle-Class Voters
Republican Sarah Palin and Democrat Joseph R. Biden Jr. each sought to claim the mantle of "kitchen table" candidate in the first and only debate between the major-party vice presidential candidates last night, both arguing that their running mates better understand the concerns of middle-class Americans worried about the nation's faltering economy.
USA TODAY: VP debate: Economy, Iraq take center stage in St. Louis
Vice presidential candidates Sarah Palin and Joe Biden sparred Thursday about economic policy, pursuit of the war in Iraq and the records of their party nominees in an eagerly anticipated debate that included humor, emotion and sharp elbows.
NYT: In Debate, Republican Ticket Survives One Test
Gov. Sarah Palin made it through the vice-presidential debate on Thursday without doing any obvious damage to the Republican presidential ticket.
NYT: Palin and Biden Are Cordial but Pointed
Gov. Sarah Palin used a steady grin, folksy manner and carefully scripted talking points to punch politely and persist politically at the vice-presidential debate on Thursday night, turning in a performance that her rival, Senator Joseph R. Biden Jr., sought to undermine with cordially delivered but pointed criticism.
Boston Globe: Invitations to partisan partying
Chad Ellis hosted a presidential debate party last Friday, but he didn't invite any of his friends. Instead he filled his home with strangers who found his party listed on Barack Obama's website. (…)Having friends over to yell at the television during a debate is nothing new, but both Obama and John McCain are using their websites to encourage supporters not just to host parties, but to open their homes to other supporters in the area.
AP: Wave of House converts jump aboard bailout bill
A wave of House converts jumped aboard the $700 billion financial industry bailout Thursday on the eve of a make-or-break second vote, as lawmakers responded to an awakening among voters to the pain ahead of them if stability isn't restored to the tottering economy.