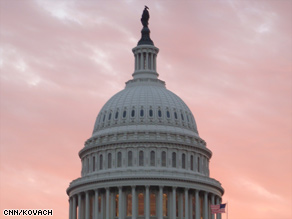 CNN: 7 in Palin's administration agree to give statements in probe
Seven employees of Alaska Gov. Sarah Palin's administration have agreed to give statements in the state Legislature's investigation into her firing of the state's public safety commissioner, the attorney general and lawmakers involved in the probe said Sunday.
CNN: Biden's mother-in-law dies
Joe Biden's spokesman said the Delaware senator would be canceling campaign events Monday and Tuesday in the wake of his mother-in-law's death Sunday.
CNN: Obama accuses McCain of looking for distractions
Sen. Barack Obama on Sunday charged that Sen. John McCain's campaign is launching "Swift boat-style attacks" on him instead of addressing the country's problems.
NYT: How 'Bout That 49th State?
What's so funny about Alaska?
Senator Barack Obama drops a reference to the state into almost every speech lately, not so much as a punch line, but as an inside joke that, to his supporters, needs no explaining.
NYT: G.O.P. to File Complaint Over Donations
The Republican National Committee plans to file a complaint on Monday against Senator Barack Obama's presidential campaign raising questions about the legitimacy of its small contributions and donations from overseas.
Washington Times: Obama sought HUD grant for donor's project
Sen. Barack Obama, who vows to change Washington by trimming wasteful spending and disclosing special-interest requests, wrote the Bush administration last year to seek a multimillion-dollar federal grant for a Chicago housing project that is behind schedule and whose development team includes a longtime political supporter.
WSJ: McCain's Town-Hall Prowess Faces Litmus Test in Debate
Sen. John McCain finally gets his long-demanded joint town-hall meeting with Democratic rival Sen. Barack Obama on Tuesday night in Nashville, Tenn.
Washington Post: Registration Gains Favor Democrats
As the deadline for voter registration arrives today in many states, Sen. Barack Obama's campaign is poised to benefit from a wave of newcomers to the rolls in key states in numbers that far outweigh any gains made by Republicans
LA Times: Mishaps mark John McCain's record as naval aviator
Three crashes early in his career led Navy officials to question or fault his judgment. John McCain was training in his AD-6 Skyraider on an overcast Texas morning in 1960 when he slammed into Corpus Christi Bay and sheared the skin off his plane's wings. McCain recounted the accident decades later in his autobiography. "The engine quit while I was practicing landings," he wrote. But an investigation board at the Naval Aviation Safety Center found no evidence of engine failure.
LA Times: Sarah Palin claims Barack Obama would 'pal around with terrorists'
You can't say she didn't warn them.
Alaska Gov. Sarah Palin introduced herself to the nation with a now-famous joke about lipstick being the only difference between a certain dog breed and a hockey mom. On Saturday, the Republican vice presidential nominee unleashed her inner pit bull, accusing Democratic presidential candidate Barack Obama of being someone who would "pal around with terrorists."
Washington Post: Artful Dodging Trumps Open Evasion, Studies Show
Republican vice presidential candidate Sarah Palin has gotten the most heat for being evasive in this season of political debates, but new research suggests that the contrast between her and the other top-of-the-ticket candidates has less to do with her lack of responsiveness than with the three senators' skill at dodging questions without seeming to.
Washington Post: Supreme Court's Direction Hinges on Who Wins '08 Race
There were not many conspicuous tributes to the legacy of President Bush at last month's Republican National Convention, but there was at least one. It was a campaign button with the words "Thanks, W" across the top and photos of Chief Justice John G. Roberts Jr. and Justice Samuel A. Alito Jr. beneath the letters.
Politico: Exclusive: Obama to hit McCain on Keating Five
Sen. Barack Obama (D-Ill.) on Monday will launch a multimedia campaign to draw attention to the involvement of Sen. John McCain (R-Ariz.) in the "Keating Five" savings-and-loan scandal of 1989-91, which blemished McCain's public image and set him on his course as a self-styled reformer.