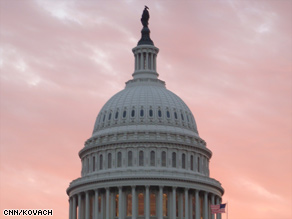 CNN: Obama widens lead in national poll
A new national poll suggests Barack Obama is widening his lead over John McCain in the race for the White House. The CNN/Opinion Research Corporation poll out Monday afternoon suggests that the country's financial crisis, record low approval ratings for President Bush and a drop in the public's perception of McCain's running mate could be contributing to Obama's gains.
CNN: Palin's husband will answer questions in firing investigation
Alaska Gov. Sarah Palin's husband has agreed to answer written questions in the state Legislature's investigation into the firing of her public safety commissioner, campaign officials said Monday.
NYT: Campaigns Shift to Attack Mode on Eve of Debate
Senator John McCain and Senator Barack Obama entered their general election contest this summer denouncing American politics as trivial and negative, and vowing to run campaigns that would address the concerns of voters during a difficult time.
WSJ: Biden's Fantasy World
In the popular media wisdom, Sarah Palin is the neophyte who knows nothing about foreign policy while Joe Biden is the savvy diplomatic pro. Then what are we to make of Mr. Biden's fantastic debate voyage last week when he made factual claims that would have got Mrs. Palin mocked from New York to Los Angeles?
San Francisco Chronicle: Town hall debate dilemma for McCain – stay negative or not?
With the Dow Jones tumbling, the credit crisis spreading, and the economy in crisis, John McCain enters Tuesday's town hall debate as his embattled campaign has expanded its hard-knuckle attacks on Illinois Sen. Barack Obama – and the Democrat has retaliated by reminding voters of McCain's involvement in the Keating Five savings and loan scandal
CNN Radio: A potentially stormy debate looms tonight as Palin goes to the Weather Underground
Will talk of terrorists help or hurt the McCain camp? And folks, we've reached an election milestone! Lisa Desjardins has today's CNN Radio Political Ticker.
San Francisco Chronicle: Palin criticizes Obama's ties to Wright, Ayers
Republican vice presidential candidate Sarah Palin expanded her attack on Democrat Barack Obama's character Monday to include his relationship with an incendiary former pastor as well as his ties to 1960s-era radical Bill Ayers.
NYT: Drilling Down on the Facts in McCain's Speech
Speaking in Albuquerque on Monday, Senator John McCain attacked Senator Barack Obama on several fronts that by now have become familiar. But many of his charges relating to the economic meltdown, taxation and health care contained inaccuracies or exaggerations of his own position or Mr. Obama's.
USA TODAY: McCain ready for combat in 2nd presidential debate
As they prepared Monday for Tuesday night's presidential debate, John McCain attacked Barack Obama's credibility. But some of McCain's fellow Republicans say the aggressive tack may not offset the damage to his candidacy from the sinking economy.
NYT: Bush, Though Not Campaigning, Delivers a Message to Voters: 'Judges Matter'
When he ran for office in 2000, President Bush vowed to appoint "more judges like Clarence Thomas and Antonin Scalia." On Monday, the opening day of the Supreme Court's new term, Mr. Bush came to the critical swing state of Ohio to remind Americans that he has lived up to that promise — and to make the case, if only obliquely, that so would Senator John McCain.
NYT: Business Cool Toward McCain's Health Coverage Plan
American business, typically a reliable Republican cheerleader, is decidedly lukewarm about Senator John McCain's proposal to overhaul the health care system by revamping the tax treatment of health benefits, officials with leading trade groups say.