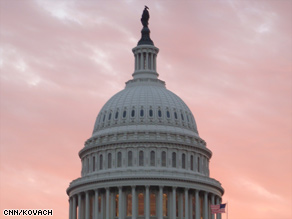 CNN: Obama, McCain lay out contrasts before undecided voters
Sens. John McCain and Barack Obama hammered away at each other's judgment on the economy, domestic policy and foreign affairs as they faced off in their second presidential debate.
CNN Poll: Obama won the night
A national poll of debate watchers suggests that Barack Obama won the second presidential debate.
NYT: Obama and McCain Clash Over Economy
Senators John McCain and Barack Obama debated for 90 minutes on Tuesday night before a nation in economic crisis, each promising anxious Americans that he had the better plan and vision to lead the country through what both men said was the most dire financial situation since the Great Depression.
NYT: Downturn in Decibels, Too
Neither candidate was selling morning in America. At times it seemed more like a competition to see who could paint the gloaming in the least unsettling hues.
CNN Radio: Candidates hear from only a few villagers in town hall-style debate
The town hall debate that wasn't. But who won? Lisa Desjardins has today's CNN Radio Political Ticker.
Seattle Times: McCain, Obama trade barbs in town hall debate
John McCain dismissively called rival Barack Obama "that one," Obama mocked McCain's "Straight Talk Express," and both left the debate stage to return to the campaign trail Wednesday.
LA Times: In debate, McCain and Obama battle mostly to a draw
Tuesday's debate in Nashville was supposed to be John McCain's night. His favorite format, a town-hall meeting with ordinary voters. His moment to unveil a new proposal for pulling the economy out of its slump. And, most important, one of his last chances to change the direction of a campaign in which undecided voters have been steadily drifting toward his Democratic opponent, Barack Obama.
Washington Times: McCain goes on offensive early
Now we know why John McCain kept pushing for town halls.
It took just 10 minutes for the Arizona Republican senator to fire off his first real shot at his Democratic presidential opponent in Tuesday night's debate, the only one to feature his desired town-hall format, as he blamed Sen. Barack Obama "and his cronies" for the housing crisis that sent Wall Street spiraling.
LA Times: The debate in body language
One was coiled and ready to spring. The other was typically languid. Even the candidates' clothing choice reflected their mood: John McCain wore an intense red tie, Barack Obama picked out one that was a glacial shade of blue. Obama sat like a jazz musician on his chair, one heel hooked at an angle, while McCain sat as if he might leap up at any moment, or stood impatiently waiting for his turn to speak.
Boston Globe: McCain, Obama push hard on records, vision for nation
Speaking directly to undecided voters, Senator John McCain challenged rival Barack Obama last night in their second debate on his reform vision for the country, asserting that Obama's record belied his rhetoric on lowering taxes, reining in government spending, and imposing more regulation on the nation's financial system.
AP: Analysis: Obama, McCain defy stereotypes in debate
Democrat Barack Obama and Republican John McCain tried to rectify perceived shortcomings and played against type at key moments in Tuesday's presidential debate, but neither seemed to change a campaign dynamic that favors Obama for now.