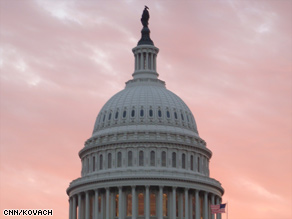 CNN: McCain says he'll 'whip' Obama's 'you-know-what' at debate
John McCain predicted Sunday he would beat Barack Obama at the final presidential debate this week."After I whip his you-know-what in this debate, we're going to be going out 24/7," the Republican nominee told volunteers at his campaign headquarters in Arlington, Virginia, sparking laughter and applause from the group.
Washington Post: On the Bus, But With No Reason to Go?
The reporters waded gingerly into two-inch-deep mud and settled behind scratched wooden tables as Barack Obama was being introduced to more than 10,000 screaming fans at the state fairgrounds here.
Washington Post: Stuck In the Muck
You want to talk dirty politics? Oh, we'll talk dirty. We'll talk about . . . 1800!
Thomas Jefferson was attacked by ministers who accused him of being an "infidel" and an "unbeliever." A Federalist cartoon depicted him as a drunken anarchist, and the president of Yale warned that if Jefferson came to power, "we may see our wives and daughters the victims of legal prostitution."
USATODAY: McCain plans to stress tax cuts to help economy
As the presidential campaign heads into its final three weeks, Republican John McCain plans to stress anew tax cuts as a way to fight the sluggish economy that has threatened global credit markets and hampered his candidacy.
NYT: Obama Knocks on Doors in Ohio
For months, supporters of Senator Barack Obama have been knocking on doors across the country to rally enthusiasm for his candidacy. On Sunday, he joined them at a few doorsteps.
CNN Radio: Virginia is in play as candidates go full bore through the weekend
It's been 44 years since Virgnia went for a Democrat for president, John McCain predicts strong victory in the next debate, and Biden is back in Scranton. Bob Costantini has the news from the trail in today's CNN Radio Political Ticker.
LA Times: Pentagon divided over John McCain
For decades, the nation's military officer corps has identified steadfastly with the priorities and values of the Republican Party. So the brass should be reveling in the presidential campaign of John McCain.
LA Times: Palin focuses on energy, economy
A new chant greets the Alaska governor in Ohio: 'Mine, baby, mine.'
San Francisco Chronicle: Once-hot issue of immigration barely mentioned on campaign trail
Just a year ago, immigration was a volatile political issue that consumed Congress and ignited passions among Americans on both sides of the debate. These days the presidential candidates barely mention the topic on the campaign trail.
Boston Globe: Anti-zoning key to Palin's early record
Days after Sarah Palin became Mayor John Stein's only serious challenger in 1996, the 32-year-old city councilwoman stood and cast a proud, dissenting vote against one of Stein's greatest achievements: the first zoning plan in Wasilla's history.
AP: Palin has mixed record as fiscal conservative
Alaska Gov. Sarah Palin, the Republican nominee for vice president, bills herself as a fiscal conservative. But her record looks little like the classic conservative who favors less government and lower taxes.