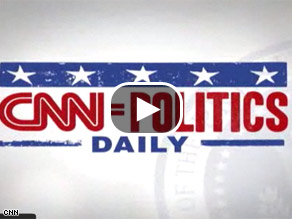 Watch Tuesday's installment of CNN=Politics Daily, The Best Political Podcast from The Best Political Team.
(CNN)—The wild ride continues on Wall Street. In the latest installment of CNN=Politics Daily, CNN's Alan Chernoff takes a look at the history of our nation's economy, and what we can expect in the days and months to come.
Meanwhile: With three weeks to go until the presidential elections, some Republicans think John McCain needs to bring the focus back to the economy. CNN's Jim Acosta explains why some GOP members are saying McCain needs to make some major changes to win in November.
Yesterday, Barack Obama offered his own remedies to help the ailing economy and the middle class. CNN's Chris Lawrence has the details and reaction from Obama's proposal.
Finally: CNN's John Roberts sits down for a one-on-one with former presidential candidate Hillary Clinton. Obama's primary season rival says the McCain campaign's negative turn will not benefit the Arizona senator.
Click here to subscribe to CNN=Politics Daily