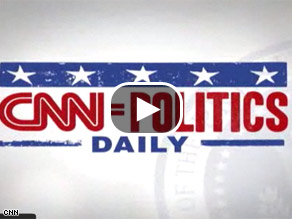 Watch Wednesday's installment of CNN=Politics Daily, The Best Political Podcast from The Best Political Team.
(CNN)—Counting down to the third and final presidential debate Wednesday night at Hofstra University. In the latest installment of CNN=Politics Daily, Senior Political Correspondent Candy Crowley takes a look at what is at stake for John McCain and Barack Obama.
McCain says he won't be shy in bringing up Obama's relationship with Underground member William Ayers during tonight's debate. CNN's Suzanne Malveaux has the details.
Plus: CNN's Drew Griffin confronts members of ACORN, the group which is being accused of filing thousands of fraudulent voter registration applications. You'll want to hear what they had to say.
Finally: A controversial DVD about "Radical Islam" is being slipped into newspapers across the country. With less than three weeks until Election Day, critics want to know who is behind it and why. CNN's Deborah Feyerick reports.
Click here to subscribe to CNN=Politics Daily.