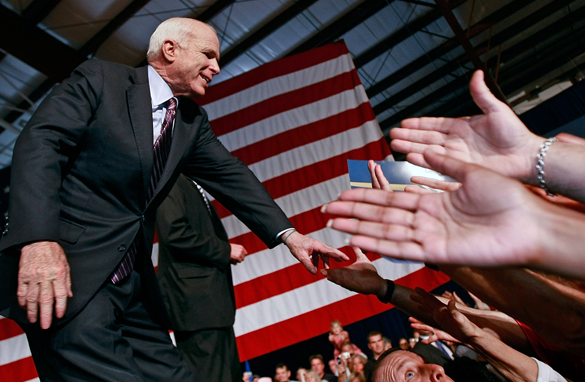 New state polls show McCain continues to slide in key battleground states. (Getty Images)
(CNN) - John McCain continues to lose ground in three battleground states, new CNN polls of polls out Thursday suggest.
According to the new surveys, McCain is still slipping in Pennsylvania, Florida, and even Colorado - a state that hasn't voted for a Democratic presidential candidate since 1992.
In the new Pennsylvania poll of polls, McCain now trails Barack Obama by a 13 point margin, 53-40 percent. That deficit is up from 12 points in a poll of polls released earlier this week.
In Florida, the state that handily voted for President Bush in 2004, McCain trails Obama by 4 points in the latest CNN poll of polls, 49-45 percent. That's up from a 3 point gap there over the weekend.
And in Colorado, a longtime Republican stronghold where McCain has held the advantage for months, the new CNN poll of polls shows Obama on top by 6 percentage points, 50-44 percent. Earlier this week, Obama held a 5-point lead over McCain.