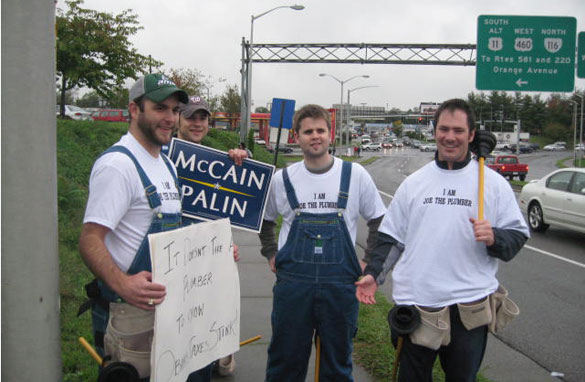 From left to right: Will Croswell, of the Washington D.C. area; Andrew Butash, of Scranton, Pennsylvania; Byron Hodkinson, from Melbourne, Austrailia; and Charlie Smith, also from the Washington D.C. area, greeted Sen. Obama in Virginia Friday. (Photo Credit: Sasha Johnson/CNN)
ROANOKE, Virginia (CNN) - The new symbol of the McCain campaign: the plunger.
As Democratic nominee Barack Obama pulled into the Roanoke Civic Center on Friday, he was greeted by the usual McCain campaign supporters that show at Obama rallies. But this time, those waving McCain-Palin signs were joined by dozens of people waving standard-issue plungers. Some wore white t-shirts emblazoned with "I AM JOE THE PLUMBER" on the front. The protesters all said they were volunteers and not paid by the McCain campaign.
The plungers serve as a reference to the 2008 campaign's latest cult personality, Joe "the Plumber" Wurzelbacher of Holland Ohio. (Joe is actually his middle name. First name: Samuel).
While the plungers emerged in Roanoke, McCain's vice presidential running mate Sarah Palin told a fundraiser in neighboring North Carolina Thursday night that she's already tired of "Joe the Plumber."
"Don't make me say Joe the Plumber, please, in any speeches," Palin said.