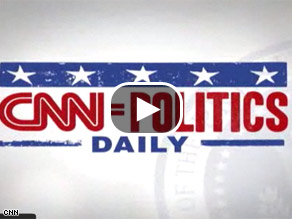 Watch Friday's installment of CNN=Politics Daily, The Best Political Podcast from The Best Political Team.
(CNN)– Sens. John McCain and Barack Obama showed off their lighter sides Thursday night at Al Smith Memorial Foundation Charity Dinner - but with 18 days left it certainly isn't all fun and games for the two presidential candidates. In the latest installment of CNN=Politics Daily, CNN's Ed Henry has the details on the candidates comedic routines, and what they are doing to court voters in the final stretch, while CNN's Suzanne Malveaux reports on Obama's stump in the critical state of Virginia.
Plus: The vice presidential candidates have been making the rounds on late night TV. This weekend, Sarah Palin finally gets the chance to show up Tina Fey, and last night Joe Biden poked some fun at another now-famous Joe — Joe the plumber - on Jay Leno.
Finally: Is there 'Joementum' for McCain? CNN's Jennifer Mikell serves up your weekly dose of trailmix—the most memorable campaign trial moments making news this week.
Click here to subscribe to CNN=Politics Daily.