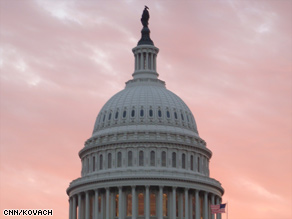 CNN: Palin says voters 'irritated' by robocalls
All of a sudden, Sarah Palin is eager to meet the press.
John McCain's running mate took questions from her press corps for the second time in three days late Sunday after flying into Colorado Springs. But Palin was not completely on message.
CNN: No more questions after Powell endorsement, says Biden
Joe Biden thanked Colin Powell for endorsing Barack Obama Sunday, saying that with his choice of Obama over John McCain, questions about the Illinois senator's ability to be commander-in-chief will be put to rest.
CNN: State polls show Obama with advantage in key battlegrounds
A string of new state polls suggests Barack Obama still holds an advantage in several key battleground states, and is within single digits in a state that has voted Republican in the last two presidential elections.
CNN: Palin: Obama experimenting with 'socialism'
Sarah Palin on Sunday levied some of her toughest attacks to date against Barack Obama, accusing him of experimenting with socialism and charging ACORN, the embattled community organizing group to which Obama has been linked, with attempting to undermine the sacrifices of United States troops abroad.
CNN: McCain: 'I love being the underdog'
Sen. John McCain said Sunday he's "very happy" with the way his campaign is going, despite his "underdog" status in the polls.
CNN Radio: Palin (the actual one) appears on SNL, and Powell makes his pick
The Powell factor, the Saturday Night Live Factor, and the poll factor. Bob Costantini has today's CNN Radio Political Ticker.

CNN: Joe 'the plumber' misses McCain's Ohio rallies
The Ohio native that Senator John McCain made a star this week did not attend either of McCain's Ohio rallies on Sunday.
CNN's Dana Bash talked to Joe 'the plumber' Wurzelbacher's brother, Robert, who said that McCain did invite his sibling to the Toledo rally but Joe was already committed to going to New York to be on former presidential candidate and now FOX News host Mike Huckabee's show.

CNN: Fact check: Would Obama raise taxes on some to cover tax credits for others?
At a campaign stop Sunday, October 19, in Westerville, Ohio, Sen. John McCain cited Sen. Barack Obama's promise to "cut income taxes for 95 percent of Americans.
Denver Post: Intense courting of Colorado
With 15 days left in the presidential race, Republican John McCain is struggling to hold on to Colorado and a handful of critical red states that President Bush took four years ago.
Miami Herald: Obama to visit Florida on Monday and Tuesday to encourage early voting
In a two-day trip that begins in Tampa and ends in Miami, Barack Obama will urge Florida voters to take advantage of early voting, which starts Monday.
Washington Times: Auditor's Iraq duty stymies re-election bid
There's only one thing missing from Thomas Salmon's re-election campaign – Thomas Salmon. Serving in Iraq with the U.S. Naval Reserve, the Vermont state auditor isn't allowed to participate in his campaign because of a Pentagon ban on politicking by active-duty members of the military.
Washington Post: Archbishop attacks Obama on abortion
Denver Roman Catholic Archbishop Charles J. Chaput labeled Sen. Barack Obama the "most committed" pro-choice candidate on abortion in 35 years, while accusing a Catholic Obama ally and other Democrat-friendly Catholic groups of doing a "disservice to the church."
WSJ: Congressman, in Tight Election, Puts His Votes for Rescue Front and Center
There's no way to hide a $700 billion vote, much less two of them, so Pennsylvania Democratic Rep. Paul Kanjorski is taking the opposite tack - talking about them everywhere he goes.
Kansas City Star: Jill Biden underlines push to paint Missouri blue
Smelling an opportunity to turn the red state of Missouri blue, the Barack Obama campaign sent Jill Biden to Kansas City on Sunday to fire up the troops.
Washington Post: D.C. Residents Can Cast 'Absentee' Votes Today
Voting in the presidential election starts today in the District of Columbia. According to the D.C. Board of Elections and Ethics, any registered voter can cast a walk-in absentee ballot at board headquarters until Nov. 3.
Washington Post: Opponents Find Agreement in Bashing Bush
No matter how hard he tries, President Bush can't keep his name out of this year's presidential campaign.
Seattle Times: Biden exhorts Tacoma crowd
Liz Burn waited more than six hours to hear Democratic vice-presidential candidate Joseph Biden speak at a rally at Cheney Stadium on Sunday.
"It's worth it," she said before the rally even started. "They're my rock stars."
Anchorage Daily News: Natives claim Palin neglects issues
When Rhonda McBride was picked as Gov. Sarah Palin's rural affairs adviser a year ago, some Alaska Native leaders were upset.
NYT: Provoking Palin's Inner Bear
Just call her Mama Bear.
Gov. Sarah Palin said Sunday that the hardest part about public life as the Republican vice-presidential nominee was the news media coverage of her children. That, Ms. Palin said, brought out the grizzly bear in her.
Omaha World-Herald: Farm subsidies may be in line for change
Wheat farmer Jeff Metz of Angora, Neb., spent his government subsidy check almost as soon as it arrived in his mailbox earlier this month.