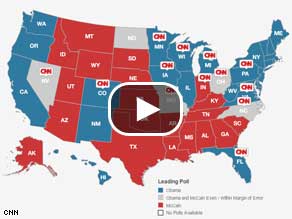 Track the candidates as they crisscross the country.
(CNN) - Republican presidential nominee John McCain is not giving up on Pennsylvania despite recent polls that suggest he has a lot of ground to make up during the next two weeks.
He plans to campaign there Tuesday, holding rallies in Bensalem, Harrisburg and Moon Township. The swing through the state comes on the heels of a visit to Blue Bell on Tuesday last week, Downingtown on Thursday, and a couple of visits to Philadelphia during the past few days.
The two presidential tickets have visited the state more than 30 times since June 8, according to a CNN count.
The most recent CNN poll of polls in Pennsylvania showed Democratic presidential nominee Barack Obama leading McCain 53 percent to 40 percent. The polls were conducted October 3 through October 19.
See the latest state and national polls
Obama's schedule calls for rallies in Lake Worth and Miami, Florida. On Monday, he spoke at a rally in Tampa and was joined by New York Senator Hillary Clinton at another rally in Orlando.
The state, which carries 27 electoral votes, began its early voting period Monday.
Following a series of rallies on Monday in nearby Colorado, Sarah Palin, the Republican vice-presidential nominee, will be campaigning in Nevada. She's expected to hold rallies in Reno and Henderson.
Early voting began in Nevada on Saturday, October 18, and continues through October 31.
In Clark County, where more than 70 percent of Nevada's population lives, more than 45,000 people voted during the weekend, the county's registrar of voters, Harvard L. Lomax, told the Las Vegas Sun Monday.
Of that number, more than half were Democratic voters, Lomax said. More than 11,000 were Republican voters and just over 7,000 voters had no party affiliation.
Nearly 12,000 votes were mailed in, he said. Nearly 5,400 of the mail-in votes were Republican, more than 4,900 were Democratic, and just over 1,500 had no party affiliation.
Democratic vice presidential nominee Joe Biden is scheduled to begin a bus tour in Colorado. He's expected to meet voters in Greeley and Commerce City.
A recent CNN poll of polls in the state showed Obama with a six-point lead over McCain. The polls were conducted October 8 through October 14.