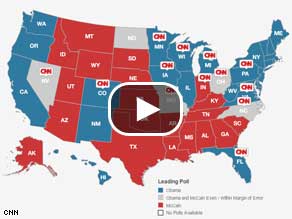 Track the candidates as they crisscross the country.
CNN) - Democratic presidential nominee Barack Obama pays a visit to Virginia Wednesday and the Republican presidential ticket plans to campaign in Ohio.
Obama is scheduled to appear at rallies in Richmond and Leesburg, Virginia, where early voting began a week ago.
Penny Gross, a supervisor of Mason District, located in the northern Virginia county of Fairfax, said she was taken back by the turnout. "I was pleasantly surprised by the crowd, surprised at the variety and quite frankly, the numbers," she said.
Read the full story on early voting across the country
A recent CNN/Time/Opinion Research poll in Virginia showed Obama leading McCain by 10 points, 53 percent to 43 percent. The poll, conducted October 11 through October 14, had a margin of error of plus or minus 3.5 percent.
Joe Biden, the Democratic vice-presidential nominee, continues his bus tour through Colorado, a critical battleground state. He's scheduled to hold rallies in Colorado Springs and Pueblo. On Tuesday, Biden visited Greeley in the northeastern part of the state and Commerce City, located near Denver.
McCain is scheduled to begin his day meeting voters in Manchester, New Hampshire. A CNN Poll of Polls released Tuesday showed Obama leading McCain 52 percent to 44 percent in the state. The polls were conducted October 3 through October 19.
He then heads to Ohio, where's he's scheduled to appear at rallies in Green and Cincinnati.
Republican vice presidential nominee Sarah Palin is expected to join him at those rallies after campaigning in Findlay, Ohio, earlier in the day.
The most recent CNN Poll of Polls in Ohio showed Obama with a three-point edge over McCain, 48 percent to 45 percent. The polls were conducted October 4 through October 19.