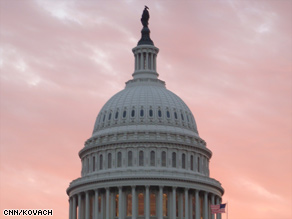 CNN: Palin charges Alaska for kids' travel
Gov. Sarah Palin charged the state for her children to travel with her, including to events where they were not invited, and later amended expense reports to specify that they were on official business.
CNN: Congressman admits saying, 'Liberals hate real Americans'
A North Carolina congressman locked in a tight re-election race admitted Tuesday to recently telling a crowd of John McCain supporters that "liberals hate real Americans," the latest in a string of comments from Republicans that appear to question Democrats' patriotism.
CNN: Obama: McCain is 'running out of time' and 'making stuff up'
Barack Obama told a Miami rally John McCain is "running out of time" and as a result has taken to "making stuff up" on Obama's record and tax cut plan.
CNN: McCain: Western Pa. 'most patriotic' part of the country
John McCain attacked Barack Obama in Western Pennsylvania Tuesday over a surrogate's comments that some of the area's residents were racist, telling locals the region was "the most patriotic, most God-loving" part of the nation.
CNN: Obama shows off dance moves
Barack Obama lauded his wife Michelle at his evening event for being a better speaker than he is. Apparently she is also a better dancer.
CNN: Clinton backers by her side, Palin makes pitch to women voters
Flanked by a quintet of former Hillary Clinton supporters, Sarah Palin on Tuesday made her most direct appeal to female voters since kicking off her vice presidential campaign in August.
CNN Radio: Palin gets philosophical and voting lines get long
The battles over socialism and money. Also, election night comes into focus for voters and the campaigns. Lisa Desjardins has the peoples' CNN Radio Political Ticker.

CNN: Ohio secretary of state's Web site hacked
The Web site of the Ohio secretary of state was back up and running Tuesday, a day after officials pulled the site partially offline when it was hacked by unknown outsiders.
CNN: Early voting suggests 2008 may see record turnout, expert says
Officials in early voting states are reporting record turnout with Election Day still two weeks away. The numbers indicate a record percentage of voters could participate in the presidential election, a voting expert said.
Washington Post: North Carolina's New Blues
In Insecure Times, a State Once Firmly Republican Now Wobbles
Washington Post: For 12 in D.C., That First Vote Is a Doozy
Finally, the people of the District of Columbia are getting a vote in congressional elections.
USA TODAY: Business travelers abroad may get grilled on U.S. politics
U.S. politics is a hot topic abroad every four years during the election season. But business travelers going overseas now say the political curiosity of their international colleagues is unlike any they've seen in the past.
Washington Times: Electronic voting faces a backlash
Fewer people will vote on electronic voting machines this year than in 2006 as well-publicized reports of glitches and hacking have made voters and election boards distrustful of new technology.
Courier-Journal: McConnell is taking campaign on the road
Fifteen days before Election Day, U.S. Senate Minority Leader Mitch McConnell yesterday hopped the bus.
Miami Herald: Obama pledges tax cut for `Joe'
Barack Obama wrapped up his Florida trip with a rally in Miami, where he urged voters to hit the polls early and promised 'Joe the Plumber' a tax cut.
Akron Beacon Journal: McCain-Palin tickets in demand
There is so much interest in a Wednesday rally in Green featuring Sen. John McCain and his running mate, Alaska Gov. Sarah Palin, that a local Right to Life group says it ran out of tickets.
Union Leader: McCain to be in NH today; Clinton coming next week
As Republican presidential candidate John McCain prepared to campaign in New Hampshire this morning, Democrat Hillary Clinton yesterday announced she will visit the Granite State next week to campaign for Barack Obama.
Politico: RNC shells out $150K for Palin fashion
The Republican National Committee has spent more than $150,000 to clothe and accessorize vice presidential candidate Sarah Palin and her family since her surprise pick by John McCain in late August.
Denver Post: Back in Colo., Biden courts Latinos and regular Joes
Vice presidential hopeful Joe Biden peddled a middle-class and patriotic message to low- and middle-income voters in Colorado on Tuesday afternoon, calling for an economic overhaul and an end to negative campaigning so both sides can focus on helping Americans.
Washington Times: Safe seats change lawmakers to donors
If you believe the polls, plenty of lawmakers are in jeopardy of losing their seats on Election Day. But some of the biggest raisers of campaign cash are the members of Congress whose re-elections are considered a safe bet.