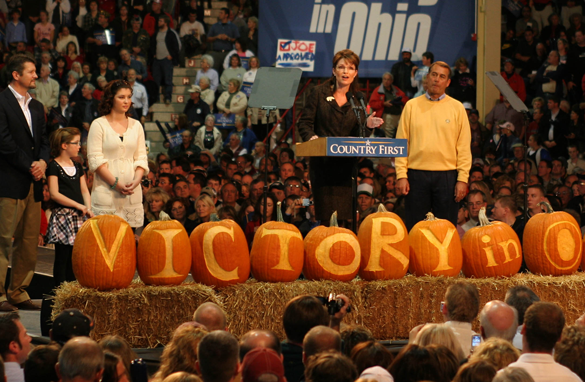 Palin campaigned in Ohio Thursday (AP PHOTO)
TROY, Ohio (CNN) - - Sarah Palin on Thursday warned Ohioans that the Democratic ticket will "invite dangerous international crisis" if elected and gleefully mocked Barack Obama for dismissing his running mate Joe Biden as being prone to "rhetorical flourishes."
At a press conference in Virginia on Wednesday, Obama made the comment while defending Biden for saying at a fundraiser, "It will not be six months before the world tests Barack Obama like they did John Kennedy" - a statement the McCain campaign has seized on to highlight Obama's relative lack of national security experience.
Palin asserted that yesterday's "hastily" assembled press conference in Richmond, in which the Democratic nominee was flanked by 15 of his top national security advisers, should remind voters of "how Obama handles trouble."
"Here his own running mate has just warned America - and it's not the first time - he warned us throughout the primaries that Barack was not ready to be president," Palin said. "He reminded them that the election of Barack Obama will invite dangerous international crisis because he is untested. And Barack just brushes it off as rhetorical flourish."
"I question dismissing Joe Biden's moment of truth-telling as nothing more than a social embarrassment," she pressed on. "Sen. Obama's own running mate, the chairman of the Senate Foreign Relations Committee, has informed us that a serious international crisis is certain if Obama is elected and that he is not ready to deal with it."
In fact, Biden did not say Obama "is not ready" to handle a national security crisis, but rather that Obama will need his supporters to stand with him as tough decisions are made.
Rounding out her criticism of Obama, Palin pledged that McCain has the experience to keep America safe.
"Now at least Joe and I have found some common ground, finally," she said. "We found common ground because I too want a president who's been tested. What I want is a president who spent 22 years in uniform defending our country."