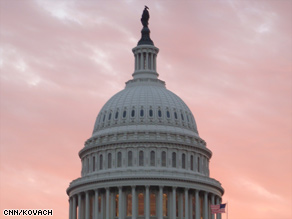 CNN: Enemies won't test me, McCain says
Sen. Barack Obama's foreign policy positions could encourage America's enemies to test it during the early days of an Obama administration, Sen. John McCain said Wednesday.
CNN: Gov. Sarah Palin, Todd Palin to give depositions
Alaska Gov. Sarah Palin and her husband will provide depositions Friday to the state Personnel Board, which is looking into whether Palin unfairly fired Alaska's public safety director this summer, the couple's attorney told CNN.
CNN: Giuliani gets tough on Obama in new robocall
Rudy Giuliani is the star of a new robocall from the McCain campaign and the Republican National Committee that seeks to portray Barack Obama as soft on crime.
CNN: Obama: 'This looks like the real 'Virginia to me'
In recent days, comments made by various Republicans about certain places being the "real America" or certain people being "pro-America" have started to creep into Barack Obama's stump speech.
CNN: RNC to add to FEC complaint on Obama's fundraising
The Republican National Committee announced Wednesday that it plans to submit an addendum to its recent complaint filed with the Federal Election Commission about the fundraising of Sen. Barack Obama's presidential campaign.
CNN: Ex-ACORN worker: 'I paid the price' for voter registration fraud
Clifton Mitchell helped register nearly 2,000 voters for the community group ACORN. But not one of them actually existed.
CNN Radio: McCain names victims, Obama spins Biden
John McCain sees Main Street as the victim, Barack Obama tidies up after Joe Biden, and Michelle Obama had nothing to do with that lobster and caviar. Lisa Desjardins has today's CNN Radio Political Ticker.

CNN: McCain playing defense in states Pres. Bush won
New polls suggest that John McCain is on defense in four of five states that President Bush won in the last election.
USA TODAY: Group asks IRS to investigate Catholic bishop against Obama
A church-state watchdog group has asked the Internal Revenue Service to investigate whether the Roman Catholic bishop of Paterson, N.J., violated tax laws by denouncing Democratic presidential nominee Sen. Barack Obama
NYT: In South Dakota Race, Gauging the Impact of a Senator's Health
Senator Tim Johnson speaks slowly and haltingly, and is sometimes difficult to understand. He moves with a cane, and spends much of his time in a wheelchair. He rarely addresses large crowds, and he has declined a request to debate his Republican challenger in next month's election.
Boston Globe: Nader plans whirlwind tour of Massachusetts
Independent presidential candidate Ralph Nader announced yesterday his own marathon, a sprint through 21 cities and towns across Massachusetts on Saturday in what his campaign says will be the most stops ever in one day by a presidential candidate.
Seattle Times: Darcy Burner's claims of a Harvard econ degree an exaggeration
Congressional candidate Darcy Burner has touted her Harvard University degree in economics during her campaign for the 8th Congressional District seat against Rep. Dave Reichert. But while Burner took some economics classes at Harvard, her degree is in computer science and not economics.
Miami Herald: Miami-Dade, Broward add voting booths to cope with long lines
Record throngs of voters continue to wait with uncharacteristic South Florida patience, as more than 47,000 people cast ballots in Miami-Dade and Broward counties in the first two days of early voting.
Charlotte Observer: Outside money fuels attack ads
Outside groups from environmentalists to gun owners have poured more than $20 million into N.C. campaigns, a record level of spending fueling a surge of attack ads in the state's top races.
Des Moines Register: McCain, Palin to make Iowa appearances this weekend
Republican presidential nominee John McCain and his running mate, Sarah Palin, are making plans to campaign across Iowa this weekend, staying engaged in a state where polls show the GOP ticket trailing.
Detroit News: Michigan voter roll surges to 98%
A record 7.47 million Michiganians are registered to vote in the Nov. 4 general election, state officials announced Wednesday, including sharp increases in Democratic bastion Wayne County and several college areas where Barack Obama's campaign has been especially active.