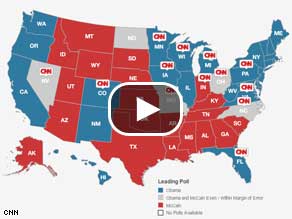 Track the candidates as they crisscross the country.
(CNN) - With just 11 days of campaigning left, here's another sign of just how much the presidential election is being fought on Republican turf: the Democratic vice presidential nominee plans on visiting West Virginia and Virginia Friday.
Sen. Joe Biden is expected to meet voters at a rally in Charleston, West Virginia.
Prior to 2000, West Virginia was staunchly Democratic in its presidential election voting, going for the Republican only three times dating back to 1956. President Bush won the state in 2000 and 2004 by appealing to its socially conservative voters through issues like abortion and gun control.
Recent polls in the state suggest the race is close. A CNN Poll of Polls in West Virginia released Thursday showed Republican presidential nominee John McCain with a two-point lead over his Democratic rival Barack Obama, 47 percent to 45 percent. The polls were conducted October 4 through October 21.
See the latest state and national poll
Biden is then scheduled to visit Martinsville and Danville in Virginia, another state won by President Bush in 2000 and 2004. A CNN Poll of Polls in Virginia - also released Thursday - showed Obama with a considerable advantage over McCain, leading 51 percent to 43 percent. The polls were conducted October 3 through October 21.
Obama is visiting his ailing grandmother in Hawaii. No public events are planned. He is scheduled to return to the campaign trail on Saturday.
The Republican ticket is focusing on Colorado, Pennsylvania and Missouri Friday.
McCain is scheduled to hold rallies and events in Denver, Colorado Springs and Durango, Colorado.
CNN's John King reported earlier this week that some in the McCain camp view their chances of winning Colorado as bleak. Other sources within the campaign told King that McCain campaign manager Rick Davis believes the state is still winnable.
The most recent CNN Poll of Polls in Colorado showed Obama with a 6-point lead over McCain, 50 percent to 44 percent.
Republican vice presidential nominee Sarah Palin is scheduled to deliver a speech in Pittsburgh, Pennsylvania, and then make her way to Missouri.
Her schedule calls for a rally at Missouri State University and then an NHL game in St. Louis, where she's dropping the puck. It's the second time this year the self-described "hockey mom" will be dropping the puck, having done so at a Philadelphia Flyers game on October 11.
The most recent CNN Poll of Polls in Missouri showed McCain with a two-point advantage over Obama, 48 percent to 46 percent. The polls were conducted October 4 through October 19.
In between the rally and the hockey game, Palin and her husband, Todd, are scheduled to give depositions to the Alaska Personnel Board. The board is investigating whether Palin unfairly fired the state's public safety director. Palin has denied any wrongdoing.