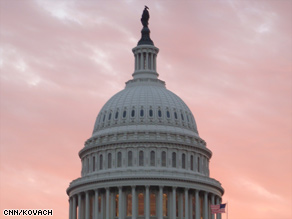 CNN: Candidates ignoring coming Social Security crisis, critics say
Experts call it the "forgotten issue," or even the "ignored issue" - Social Security.
Sens. John McCain and Barack Obama have spent ample time addressing the budget crisis, but haven't zeroed in on the growing concerns over Social Security.
CNN: GOP argument: Don't give President Obama a blank check
A new Republican ad appears to suggest that Barack Obama has all but won the presidential race, an argument several vulnerable Senate Republicans may have to reluctantly embrace with only days until Election Day, an expert in campaign advertising said.
CNN: Former Bush aide voting for Obama
Scott McClellan, the former White House press secretary who sharply criticized President Bush in his memoir last spring, told CNN Thursday he's voting for Barack Obama.
CNN: Palin changes tune on 'feminist' label
Does Sarah Palin consider herself a feminist? It depends on which network anchor is asking.
CNN: POLL UPDATE: Obama ahead by 8
As Election Day inches closer, Barack Obama continues to hold a significant lead over John McCain, according to CNN's average of several recent polls.
CNN: Woman claims attack linked to McCain sticker
A 20-year-old woman told police she was attacked at an ATM in Pittsburgh by a robber who became angry when he saw a bumper sticker for John McCain on her car, a spokeswoman for the Pittsburgh Police Department said Thursday.
CNN Radio: Of election nights and piano men
The polls go his way, but a top Democrat doesn't buy it. John McCain downsizes - or compartmentalizes - his election night, and rock versus country goes political. Lisa Desjardins has today's CNN Radio Political Ticker.


CNN: Republican Jewish group uses Clinton in anti-Obama ad
The Republican Jewish Coalition is backing Sen. John McCain for president, but the group's latest newspaper ad uses Sen. Hillary Clinton's record on issues of particular concern to Jewish voters (along with that of McCain) to make the case against Sen. Barack Obama, the Democratic nominee.
Washington Post: GOP Knocks Va. Democrats' Registrations
Virginia Republicans opened up two fronts in the increasingly testy battle over the voting process Thursday by accusing Gov. Timothy M. Kaine of stacking the registration rolls with felons and raising concerns that county registrars were not allowing some members of the military who are serving overseas to vote.
USA TODAY: New York Times endorses Obama, Detroit News goes for McCain
The New York Times tonight endorsed Democrat Barack Obama for president in an editorial posted tonight at its website. (…)Earlier today the Detroit News endorsed McCain.
Washington Times: Kennedy secretly crafts health care plan
From his sickbed, Sen. Edward M. Kennedy has secretly been orchestrating meetings with lobbyists and lawmakers from both parties to craft legislation that would greet the new president with a plan to provide affordable medical coverage to all Americans, a measure he has called "the cause of my life."
NYT: Little-Noticed College Student to Star Politician
For five years, Diane Osborne, a hairdresser, helped young women in this city as they vied for crowns in pageants, but the one she was sponsoring this time, in 1984, struck her as unlikely.
WSJ: Chamber of Commerce Irks Democrats with Big Push for GOP
The nation's largest business lobby, the U.S. Chamber of Commerce, has raised ire among Democratic leaders for pouring millions of dollars into an advertising push to prevent the party from winning dominance in the Senate next year.
LA Times: Bratton records phone message supporting Obama
Los Angeles Police Chief William J. Bratton waded into the contentious U.S. presidential campaign Thursday, recording an automated telephone message on behalf of Democrat Barack Obama.
LA Times: John McCain enjoys wide support in Vietnamese communities
Roughly 51% of Vietnamese voters, many of whom were tortured in North Vietnamese prisons like McCain, say they identify with the Arizona senator and believe he'll support their causes.
San Francisco Chronicle: Early voters turning out in record numbers
Election day is only 11 days away, but for thousands of people around the Bay Area, that's simply too long to wait.
Chicago Tribune: Sarah Palin talks about wardrobe flap, double standard for women and special education
Alaska Gov. Sarah Palin insisted in an interview with the Tribune on Thursday that she did not accept $150,000 worth of designer clothes from the Republican Party and "that is not who we are."
Richmond Times-Dispatch: Warner retains big leadThe latest Richmond Times-Dispatch Poll puts Democrat Mark R. Warner comfortably ahead of Republican Jim Gilmore - 58 percent to 33 percent, with 9 percent undecided.
Minneapolis Star Tribune: The campaign trail: Voter sign-up sets off a furor
Charges, countercharges about voter registration fraud center on the community group ACORN. More than 43,000 Minnesotans have registered to vote this year through ACORN, the group that has come under Republican attack over voter registration irregularities around the nation.