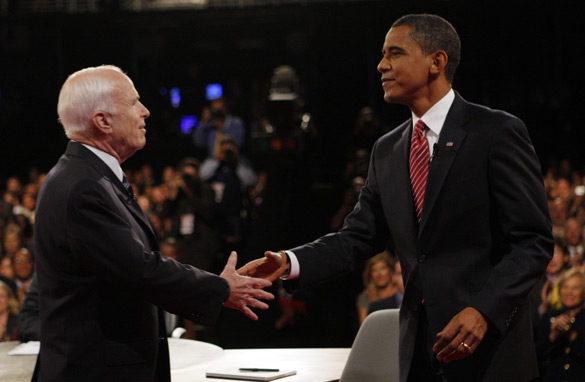 Sen. McCain and Sen. Obama shake hands before their final presidential debate at Hofstra University in Hempstead, New York.(AP PHOTO)
NEW YORK (CNNMoney.com) - The next United States president won't have long to savor victory after Election Day.
Facing the worst economic storm since Franklin Delano Roosevelt won the 1932 election, this president-elect will have to quickly announce his key staffers and policy priorities to reassure both the nation and the world.
"The incoming president will be facing many bigger challenges than any president since Roosevelt," said John Kamensky, senior researcher at the IBM Center for The Business of Government, which focuses on public management. "The president will have to have a very organized transition to be able to address it."
Spokesmen for Senator Barack Obama's and Senator John McCain's campaigns declined to comment on the transition, which lasts 77 days. It is widely reported that former Clinton Chief of Staff John Podesta is working with Obama, while former Reagan Navy Secretary John Lehman Jr. is guiding McCain's team.