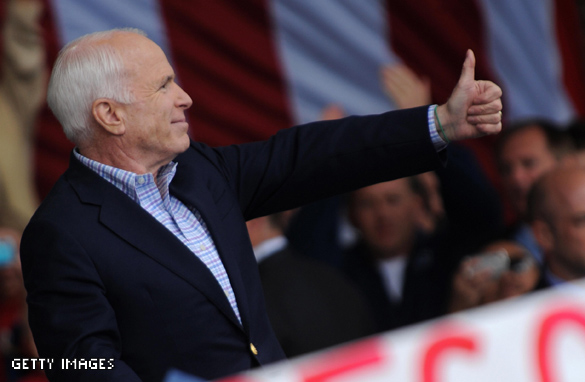 VANDALIA, Ohio (CNN)– "You will know their names and I will make them famous!"
John McCain once again used that line on the campaign trail over the weekend, as he does in virtually every speech. It refers to pork barrel projects– "You will know their names and I will make them famous!" is his promise/threat to veto all such legislation, and to tell the world who the offending congressional sponsors were.
But the line, if you extrapolate from what people have been telling us on our journey, has perhaps taken on a double meaning– one that could lead to a lucrative, if unlikely, second career for McCain, should he lose the election next week.
"McCain really is the one person who has made these two people overnight stars," said Larry Ealy, 54, of South Bend, Indiana. "It's pretty amazing, how fast he made it happen."
More from Mr. Ealy later in this dispatch. For now. . . .
If McCain wins, his plate will be rather full for the next four years: president of the United States, commander in chief of the armed forces, leader of the free world. . .all of that.
But should he lose, a strong argument can be made that, over the last several months, McCain has shown an uncanny knack for a line of work you wouldn't automatically associate with him:
Talent agent.
Just look what he has done for two unknowns:
Sarah Palin and Joe the Plumber.
McCain has made them among the most famous people in the United States. What he has accomplished on their behalf would be the envy of any Los Angeles or New York agent– he has taken them from utter anonymity (in Palin's case, she was known in Alaska, and in political circles, but not to the vast American public), and he has turned them into stars with unlimited futures.
It's not as easy as it sounds, even for a presidential candidate. Barack Obama hasn't done it; people whose names have been connected to his have become famous, yes, but not necessarily because he wanted them to (think in terms of the Reverend Jeremiah Wright, of Bill Ayers, even of Joe the Plumber himself). Obama has made himself– Obama– exceptionally famous, which was probably a good move.
McCain?
He has all but assured that, regardless of what happens to him on Election Day, Palin and Joe the Plumber have stellar careers waiting for them on the other side– whether in politics, television, book-writing or top-dollar lecture tours.
[cnn-photo-caption image= http://i2.cdn.turner.com/cnn/2008/images/10/27/bragg.jpg  caption="Gloria Bragg had never heard of Sarah Palin before McCain introduced her to the world."]
"I had never heard of Sarah Palin before the night she walked out to accept the nomination," said Gloria Bragg, 44, of Fairfax Station, Virginia.
Like many people we have met as we cross the country, she said that were it not for John McCain, she probably would never in her life have given a moment's thought to Palin or to Joe. "Someone at work told me about Joe the Plumber after McCain started talking about him," she said. "Now you hear about him every day."
McCain, if he should decide to pursue talent-agent work after his political career eventually comes to an end, would be going against type: agents, in stereotype, are smooth and silky talkers, are tethered to their BlackBerrys or computer screens, are slaves to styles and trends. In other words, everything that McCain is not.
But that would work for him, not against him. He would stand out– an agent unlike all the others. A maverick, you might say.
Already, he is getting raves for having promoted his first two discoveries.
Back to Larry Ealy, the fellow from South Bend:
"The name 'Sarah Palin' meant nothing to me until John McCain found her and told the world about her," he said. "But what a future she has. She's got it all– great personality, communication skills, feminine looks. She's smart as a firecracker– just phenomenal. I have a sister who's similar to her. It was great that McCain found her– finally, a regular person.
"Same with Joe the Plumber. Smart and articulate. He asked the question of Obama, but it was McCain who saw his potential. That's the American way, isn't it? New stars coming out of nowhere?"
It would be perfectly understandable if, at this point in the campaign, McCain does not want to spend a single moment thinking about what he might do if the voting goes the wrong way– and about the unexpected discovery, deep inside his personality, of the agent's gift of putting aside one's own ego to let one's clients shine and bask in the applause.
Who would have thought it? He turns out to be a guy with the magic touch– a starmaker with a golden gut.
Up the road, Tina Fey might want to consider hiring him. She's as hot right now as a show-business star can be, and she's in a great position to demand to renegotiate all her contracts.
She already owes most of it to McCain. If he hadn't found Palin, Fey would be having a very different autumn.
"You will know their names and I will make them famous!"
Take it to the bank.