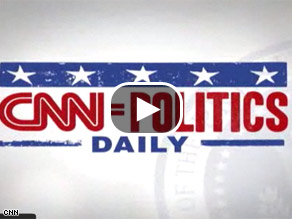 Watch Monday's installment of CNN=Politics Daily, The Best Political Podcast from The Best Political Team.
(CNN)— With eight days to go before Election Day, both candidates are pulling out all of the stops and working overtime in the critical battleground states. In the latest installment of CNN=Politics Daily, CNN's Ed Henry has the details on some finger pointing going on within the McCain campaign, and why some people think the Arizona senator is down in the polls. Meanwhile, CNN's Suzanne Malveaux reports on the Obama campaigns final push to get voters to the polls.
Also, in battleground Virginia, the efforts have shifted from getting people registered to getting people out to vote. CNN's Kate Bolduan has the details on the ground game there.
Finally: How likely is it that Democrats will win the 'magic 60' seats needed for a filibuster-proof majority? CNN Special Correspondent Frank Sesno takes a look.
Click here to subscribe to CNN=Politics Daily