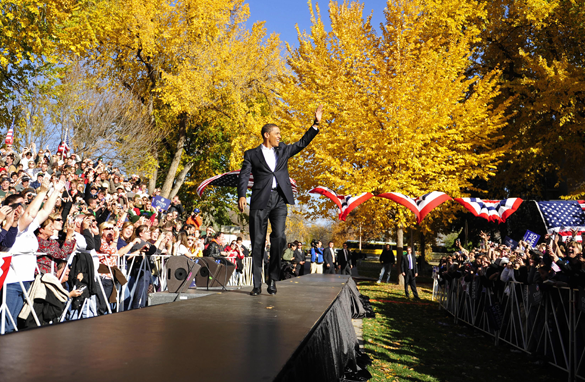 Obama campaigned in Colorado Sunday. (Getty Images.)
(CNN) - Barack Obama is hanging onto leads in several battleground states as well as a handful of traditionally red states won by President Bush in 2004, CNN's average of several recent state polls shows.
According to a string of new polls of polls from CNN, Obama holds narrow leads in Ohio, Missouri, Florida, Nevada, and Virginia. John McCain meanwhile is hanging onto his lead in Indiana and West Virginia. CNN's polls of polls are statistical averages of several recent surveys from each state. They do not carry margins of error.
CNN Election Center: Check out the latest state polls
In Ohio, the state no Republican has won the White House without, Obama is holding a 4 point lead, 50 percent to 46 percent. That's one point narrower than a CNN Ohio polls of polls last week.
In Missouri, the state that voted for President Bush twice, Obama holds a 1 point lead over McCain. A CNN average of recent polls last week showed the race tied in Missouri.
Obama is holding onto a 2 point lead in Florida meanwhile, 48 percent to 46 percent. That's one point narrower than the race was last week at this time.
In Nevada, Obama has a 4 point lead, 49 to 45 percent - a lead that hasn't changed over the last week.
In Virginia, a state that hasn't voted Democratic in over 4 decades, but one that has been increasingly trending Democratic, Obama holds a 5 point lead, 50 to 45 percent. That's 3 points narrower than Obama's lead there last week, according to a CNN poll of polls then.
McCain meanwhile has a 1 point lead in Indiana, 47 to 45 percent, another state that hasn't voted Democratic since the 1960's but one that the Obama campaign has heavily targeted.
McCain also has an 8 point lead in West Virginia, 50 to 42 percent, a lead that is 6 points higher than it was this time last week.
That latest round of poll results shows McCain faces an uphill climb in the final week of his presidential campaign.
"The Republicans haven't lost Virginia in 44 years. They absolutely need Florida to reach 270 electoral votes on Election Night. They've never won the White House without carrying Ohio. And the last time Missouri backed a losing candidate was in 1956," noted CNN Senior Political Researcher Alan Silverleib. "McCain is now trailing – albeit narrowly – in all four of these states. He needs a dramatic turnaround this week to have a serious shot at winning on November 4."