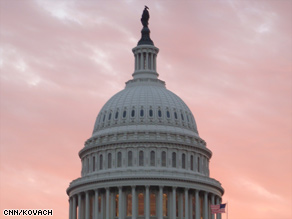 CNN: Stevens verdict likely to inch Dems closer to 'magic 60′
Ted Steven's guilty verdict Monday afternoon could mean the end of the Alaska lawmaker's 40-year tenure in the Senate and serve to inch the already emboldened Democratic Party closer to 60 seats in the Senate, recent polls of the Alaska race suggest.
CNN: Palin's appeal undimmed in rainy Virginia
Lula Easterling and her friend Bill Hardenburgh have voted Democrat all their lives. But browsing through a pile of Sarah Palin t-shirts, baseball caps and other merchandise as they wait to gain access to the Republican vice-presidential candidate's campaign rally in Fredericksburg, the pair admit next week they will be casting their votes elsewhere.
CNN: Fact Check: McCain's 'closing argument'
The McCain campaign says Sen. John McCain has been delivering his closing argument "every day for the past week." The CNN Truth Squad looked at Obama's "closing argument" speech and one McCain delivered Friday, October 23, in Sarasota, Florida.
CNN: Fact check: Obama's 'closing argument'
On Monday, October 27, Sen. Barack Obama delivered what his campaign called a "closing argument speech" in Canton, Ohio. The CNN Truth Squad looked at Obama's "closing argument" speech and one McCain delivered Friday, October 23, in Sarasota, Florida.
CNN: Indiana official seeks criminal probe of ACORN
Indiana's secretary of state has requested a criminal investigation into the embattled community organizing group ACORN, which is accused of submitting hundreds of bogus voter registration forms in northern Lake County.
CNN: NAACP sues Virginia governor over Election Day preparations
The Virginia branch of the NAACP sued Gov. Tim Kaine and state election officials on Monday, claiming that the state is "inadequately prepared" for the record number of voters expected to turn out in next week's presidential election.
CNN Radio: Obama goes primetime, Palin talks Stevens
Barack Obama plays ground ball, Sarah Palin talks about Alaska's convicted Senator, and one newspaper is already declaring a winner. Lisa Desjardins has today's CNN Political Ticker.

CNN: 'Obama Wins!,' newspaper declares
For The New Mexico Sun News it is either a major scoop or "Dewey Beats Truman" déjà vu 60 years later.
CNN: Thousands of flagged voters can vote, court rules
Georgia must allow thousands of people whose citizenship was questioned by the state's new voter verification system to vote in the upcoming election, a panel of federal judges ruled Monday.
Washington Post: Your Neighbors Could Find Out, So You'd Better Vote
After nearly two years of political jockeying for the presidency, hundreds of millions of dollars of advertising and wall-to-wall campaign coverage in the media, nearly half of all Americans eligible to cast ballots in the presidential election may not bother to vote.
USA TODAY: Christian right's mailings depict disastrous future under Obama
Terrorist strikes on four American cities. Russia rolling into Eastern Europe. Israel hit by a nuclear bomb. Gay marriage in every state. The end of the Boy Scouts.
Washington Times: Marylanders warned: Vote where you live
It's more important than ever for Maryland residents to cast ballots in the precinct where they live this Election Day, because a 2006 court ruling means their votes probably can't be counted if they are entered elsewhere, state elections officials say.
Pittsburgh Post-Gazette: Hart struggles in her bid to retake House seat
It was a Sunday morning that should have fit the political bill for Melissa Hart: a slow news day with no distractions for local media, clear weather for the cameras and a red-meat endorsement from a Gold Star mom.
York Dispatch: Bill Clinton to stump for Obama, with stop in Harrisburg Wednesday
Former President Bill Clinton will stump for Democratic presidential candidate Barack Obama throughout Pennsylvania on Wednesday, with stops scheduled in Harrisburg, State College and Washington County.
Minneapolis Star Tribune: McCain trimming TV ad buys in Minnesota
Republican presidential candidate John McCain has diluted previous television ad buys and fallen behind Democratic rival Barack Obama's weekly ad pace in Minnesota, according to an Associated Press examination of Twin Cities TV records.
Until recently, Minnesota was one of the rare places where McCain was outspending Obama on TV ads.
Anchorage Daily News: Stevens to resume campaign today
A defiant Sen. Ted Stevens is returning to Alaska today to resume his re-election campaign, despite being convicted of felonies that carry the potential of years in prison.
Stevens, 84, faces a challenge of historic proportions with just one week before the election. He'd be the first convicted U.S. senator ever elected, on appeal or not.
Chillocothe Gazette: Obama promises in Ohio to restore prosperity
Closing his case for the presidency, Barack Obama promised on Monday to restore economic prosperity and a sense of "higher purpose" to a tired, embattled nation.
NYT: G.O.P. Puts McCain Ads Up in Montana
With Senator McCain badly outgunned on television, the independent advertising arm of the Republican Party — which can spend freely on advertising as long as it does not coordinate its plans with those of the McCain campaign or the Republican National Committee's central command — is stepping up its efforts in some unlikely places.
Denver Post: Only third of mail-in votes are in
With Election Day one week from today, only about a third of the people who requested mail-in ballots in Colorado have so far returned them.
That figure surprises some political insiders, who thought — more than three weeks after mail-in ballots started going out — that the number would be higher.