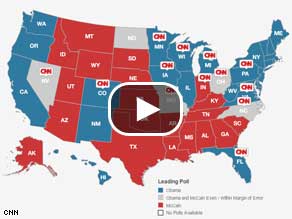 Track the candidates as they crisscross the country.
(CNN) - Both presidential contenders are scheduled to visit battleground prize Florida Wednesday, looking to capture the state's 27 electoral votes.
Republican presidential nominee John McCain begins the day with a rally in Miami, holds a roundtable discussion about national security in Tampa and ends his swing through the state with an event in Palm Beach.
Barack Obama, the Democratic presidential nominee, is expected to hold a rally in Raleigh, North Carolina, and then make his way to Florida, where he's scheduled to hold rallies in Sunrise and Kissimmee.
The most recent CNN Poll of Polls in Florida, released Tuesday, showed Obama leading by 4 points over McCain, 49 percent to 45 percent. The polls were conducted October 23 through October 26.
Florida's voters have already begun casting ballots. The state's early voting period began on October 20 and runs through November 2. As of Tuesday, about 1.2 million voters cast ballots in person.
See a map of early voting statistics
Obama's running mate, vice presidential nominee Joe Biden, will also be in Florida, attending an event in Jupiter.
Meanwhile, Sarah Palin, the Republican vice presidential nominee, plans to deliver an economic policy speech in Toledo, Ohio. Her plans then call for rallies in Bowling Green and Chillicothe. Palin ends her day with a rally in Jeffersonville, Indiana.
President Bush won Ohio and Indiana during the past two presidential elections, but the McCain-Palin ticket is very much on the defensive in both states this year.
A CNN Poll of Polls in Ohio released Tuesday showed Obama leading McCain by 6 points, 50 to 44 percent. The polls were conducted October 19 through October 27.
In Indiana, the most recent CNN Poll of Polls showed McCain with a 1-point edge over Obama, 48 percent to 47 percent. The polls were conducted October 3 through October 26.
See the latest state and national polls
The McCain campaign began running ads in Indiana for the first time last week, according to TNS Media Intelligence/Campaign Media Analysis Group, CNN's consultant on campaign ad spending.
The McCain campaign spent nearly $250,000 on ads from October 19 through October 25. In contrast, the Obama campaign spent about $1.8 million on campaign ads during the same period.