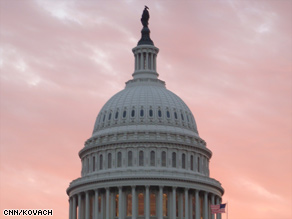 CNN: Obama's ahead, polls say, but will the lead last?
With a week to go before Election Day, most recent national polls show Democratic presidential nominee Barack Obama with an advantage. But how much are they to be believed?
CNN: Top GOP call on Stevens to resign
John McCain and Sarah Palin on Tuesday called on Sen. Ted Stevens, R-Alaska, to resign, a day after the veteran Alaska lawmaker was convicted on federal corruption charges.
CNN: McCain: Obama definition of rich 'creeping down'
Senator John McCain, campaigning in the must-win states of Pennsylvania and North Carolina, charged Tuesday that Barack Obama has a "creeping" definition of what rich means.
CNN: Polls show McCain not making up ground in Ohio
John McCain does not appear to be making up ground in Ohio, the key battleground state that is crucial to keeping his White House hopes alive.
CNN Radio: Obama "pre-show" for World Series, Palin on energy, and Biden makes a funny
A suspended World Series game meets a 30-minute television pitch from Barack Obama, Joe Biden tries a new joke and Sarah Palin keeps hitting a well-used phrase. Lisa Desjardins has today's CNN Radio Political Ticker.

CNN: Palin will return to Alaska to vote
Sarah Palin will return to her hometown of Wasilla, Alaska to vote on Election Day, a campaign adviser tells CNN.
CNN: Palin: Obama wants to re-write Constitution
As the McCain campaign continues to press Barack Obama over a 2001 radio interview in which he uttered the phrase "redistributive change," Sarah Palin on Tuesday accused the Democrat of wanting to re-write the Constitution to give the judiciary the power to redistribute wealth by confiscating the property and income of ordinary Americans.
CNN: Biden hammers McCain camp on health care, space industry
After sticking uncharacteristically close to his prepared remarks in recent days, Joe Biden veered off Tuesday night while speaking near Cape Canaveral to play up his ticket's support for the space industry, and to hit John McCain over his health care plan — which the Democratic VP nominee called "the ultimate bridge to nowhere."
CNN: Texas county's machines causing concern for some voters
Voters this election cycle are braving many challenges. Lines have been long for early voting in some states, some voters face rigorous identification standards, and there's even a dress code for voters in some states.
CNN: GOP targets Murtha over 'racist' comment
The National Republican Campaign Committee is using some of its scarce resources to target one of the most senior Democrats in the House–Rep. John Murtha, D-Pennsylvania. A new campaign commercial released today uses video clips of Murtha's recent comments about his Western Pennsylvania district being "a racist area" and "redneck."
CNN: Sen. Kennedy back in Washington, aide says
Democratic Sen. Edward Kennedy returned to Washington Tuesday for the first time since July, following an operation for a brain tumor in June, his spokesman said.
Washington Post: 'Never Seen Crowds Like This'
One week before the Nov. 4 election, a courtroom showdown is looming in Virginia over whether the battleground state is prepared to handle what is expected to be a historic voter turnout.
USA TODAY: GOP takes out loan for Senate candidates
The Republican National Committee tapped a $5 million line of credit Tuesday as part of a renewed effort to help GOP senators facing re-election difficulties, the party's chairman said Tuesday.
USA TODAY: Joe the plumber says Obama would be 'death to Israel'
Joe Wurzelbacher, the Ohioan made famous by Republican John McCain this year as "Joe the plumber," is branching out from tax policy to the Middle East.
Washington Times: Ex-subprime bank executive finances Obama
Customers who lost savings note he slams housing crisis
LA Times: McCain campaign accuses L.A. Times of 'suppressing' Obama video
John McCain's presidential campaign Tuesday accused the Los Angeles Times of "intentionally suppressing" a videotape it obtained of a 2003 banquet where then-state Sen. Barack Obama spoke of his friendship with Rashid Khalidi, a leading Palestinian scholar and activist.
Miami Herald: Candidates woo S. Florida's small-business owners
South Florida's small-business owners are weighing the dueling plans offered by the presidential candidates.
AP: McCain links economy and national security
Republican John McCain, scrambling after one of the biggest battlegrounds of the presidential election, is touting his history on national security and trying to link the issue of the country's safety to the financial meltdown.