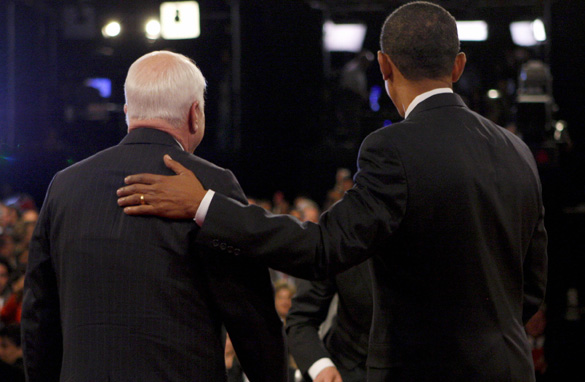 CHARLES DHARAPAK/AFP/Getty Images
ABOARD THE ELECTION EXPRESS

KANSAS CITY, Missouri (CNN)– At first, many people thought it was a trick question.
"You want me to say something good about who?" said Christine Graham, 43, of Arapahoe County, Colorado.
But it wasn't a trick. It was just a small attempt, in the final days of a presidential campaign that has at times been vicious and brutal-spirited, to, as they say, bring the country together.
"But I'm for John McCain," Christine Graham said.
That's fine. McCain has your vote.
But, knowing that you're not going to change your mind, Mrs. Graham, say something good about Barack Obama– something that you truly believe.
She hesitated.
"Well. . . ." she said.
She paused for a few more seconds, and then said:
"He's a dreamer. I think he probably wants to make life easier for people."
There. Easy as that.
[cnn-photo-caption image= http://i2.cdn.turner.com/cnn/2008/images/10/30/joelmichel.jpg
 caption="Joel Michel is an Obama supporter."]
And you, Joel Michel, 53, of Kansas City.
You say you're going to vote for Obama?
"Yes."
Good enough.
Now say something good about John McCain.
"Seriously?"
Yes– something genuine that you like about him.
"He seems like a nice guy," Michel said. "And his war record, of course. The heroic aspect of him."
Anything else?
"He seems like his own man, not so much a part of the Beltway," Michel said. "And I think he really wants to get rid of those nefarious lobbyists."
We were noticing something as we did this: The people, whether they supported McCain or Obama, seemed to be in a little better mood– in an observably more pleasant frame of mind– after they were urged to say something nice about the other guy. During a campaign year that has consisted of so many raised voices and ugly charges, they seemed to like this.
[cnn-photo-caption image= http://i2.cdn.turner.com/cnn/2008/images/10/30/jimkeeney.jpg
 caption="Jim Keeney is a McCain supporter."]
Jim Keeney, 57, of Chillicothe, Missouri, strong supporter of John McCain: Say something good about Barack Obama.
"He's one of the best speakers I've ever heard," Keeney said. "He's got youth going for him. And I think Joe Biden is a good man– I kind of wish Biden was running with McCain. So I can say something good about his vice presidential pick."
How'd that feel, saying that?
"Good– but you know I'm still voting for McCain, right?"
Of course.
Now, Dave Fiala, 47, of Howells, Nebraska– you say that you're an Obama voter?
"I am."
Tell us something you really like about John McCain.
"What that man has been through– his war record in the military– how could anyone not respect that?" Fiala said. "And I think he's genuine about his feelings. He genuinely believes that what he wants to do for the country is the right thing. But mostly I come back to how he handled terrible adversity– what he has been through, and where he has gotten to. I certainly have never been through anything like that. I'm not going to vote for him, but he's a man I would enjoy meeting and talking to."
Mikki Huxtable, 46, McCain voter from Liberty, Missouri– say something good about Obama.
"He's a really good family man," she said. "He's a momma's boy, and I say that in a good way– he cares about the moms in this country, because he was raised by his mother and his grandmother. He stopped his campaign to go visit his grandmother because she's sick. I have a son who I wish was as much as a momma's boy as Obama is. I wish he would depend on me more."
[cnn-photo-caption image=http://i2.cdn.turner.com/cnn/2008/images/10/30/trisha.brewer.jpg caption="Trisha Brewer is a Canadian citizen...but still has something nice to say."]
And you, Trisha Brewer, 33– you say you like Obama.
"Yes, but I'm not from the United States– I live in Victoria, British Columbia."
That's all right. Since you like Obama, and would vote for him if you could, try to think of something nice to say about McCain.
"He's very American," she said. "It's very obvious to me that McCain really does have America's best interests at heart."
Mike Cohany, 45, of Carlisle, Pennsylvania, John McCain voter– sorry to interrupt your evening, but can you say anything good about Barack Obama?
"He's energetic, he's charismatic, he's fresh, and it's clear that he believes things can improve," Cohany said. "He's very poised in how he carries himself, and there's no question he's very intelligent. I'm into sports, and I read about how he likes to hang out with the guys to play basketball. He's not going to get my vote, but, now that you ask, I think he's a guy I would enjoy having a conversation with."
Junior Word, 33, of Knoxville, Tennessee– you say that Obama definitely has your vote?
"Yes. No question about it."
Please say something good about John McCain.
Pause.
"He's a believer. When he sets out to do something, he does it because he really is convinced it's the right thing. I don't agree with his policies, but I know that he is a true American."
This just might catch on. In these last days of the campaign, this might start something– in city after city, in state after state, people might make themselves feel better by looking for the better side of the man they oppose.
Right.
But admit it– it beats what we've been hearing all year, doesn't it?