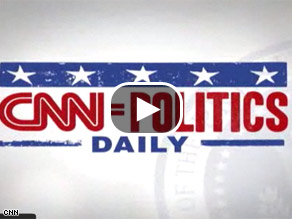 Watch Thursday's installment of CNN=Politics Daily, The Best Political Podcast from The Best Political Team.
(CNN)– Did Democratic presidential nominee Barack Obama's 30 minute ad better help voters envision the Illinois senator post-election? In the latest installment of CNN=Politics Daily, CNN's Suzanne Malveaux has the latest on Tuesday's debut of the "Obamamercial."
And: Some fear that the heightened voter turnout this election season may be accompanied by an increase in security problems. CNN's Dan Lothian takes a look at the battleground state of Virginia and how law enforcement is stepping up safety measures to prepare.
Plus: Republican presidential candidate John McCain kicks off a two-day bus tour in the hotly contested state of Ohio. CNN's Dana Bash has the latest on the campaign's final push to win the White House.
Finally: Bill Clinton and Barack Obama seem to have put aside their differences, sharing the stage for the first time in the Illinois senator's campaign. CNN's Randi Kaye takes a look at the former president's relationship with the current presidential nominee during the tumultuous primary season.
Click here to subscribe to CNN=Politics Daily.