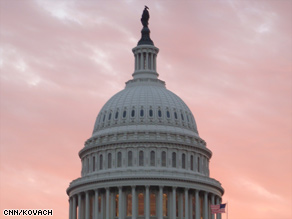 CNN: As polls tighten, the campaign arrives in McCain's home state
Democrats are making a late play for Arizona as new polls show home-state Senator John McCain with a shrinking single-digit edge over Barack Obama.
CNN: New CNN Poll of polls: Obama holding on to national advantage
After a string of surveys that seemed to indicate John McCain was reducing Barack Obama's polling edge, the most recent numbers added to the latest CNN poll of polls suggest the Democratic nominee is holding on to his advantage nationally.
CNN: RNC, GOP tweak tactics to lure conservative Democrats
While many in the media are single-mindedly focused on vice presidential nominee Sarah Palin's outfits, Republican efforts to brand Sen. Barack Obama a socialist and the chances that Democrats will net nine Senate seats (giving them 60 seats in the next Senate), some other interesting things are going on - things that are being missed.
CNN: Dem Fundraiser Fred Baron dies
Frederick Baron, a wealthy Texas trial lawyer and prominent Democratic fundraiser linked to the John Edwards mistress scandal, died Thursday. He was 61.
CNN Radio: Polls tighten as McCain gets stood up by Joe (of plumbing fame)
Joe the Plumber makes news when he's in the crowd and when he's not, national polls go McCain's direction and TV ratings go Obama's. Lisa Desjardins has today's CNN Political Ticker.

CNN: Dole challenger irate over suggestion she is 'godless'
Kay Hagan erupted in anger Thursday over a television ad from Sen. Elizabeth Dole suggesting Hagan is "godless."

CNN: Biden says GOP ticket has economic priorities 'upside down'
Sen. Joe Biden said Thursday that the Republican ticket has its economic priorities "upside down," pointing to news of a shrinking GDP and record quarterly profits for Exxon Mobil Corp.
CNN: Podcast: McCain, Obama work to tell voters election is not over
Did Democratic presidential nominee Barack Obama's 30 minute ad better help voters envision the Illinois senator post-election? In the latest installment of CNN=Politics Daily, CNN's Suzanne Malveaux has the latest on Tuesday's debut of the "Obamamercial."
NYT: McCain and Obama Advisers Briefed on Deteriorating Afghan War
Two weeks ago, senior Bush administration officials gathered in secret with Afghanistan experts from NATO and the United Nations at an exclusive Washington club a few blocks from the White House. The group was there to deliver a grim message: the situation in Afghanistan is getting worse.
NYT: National G.O.P. Ending Aid to Most New York House Races
National Republican officials have decided to withhold financial support from all but two closely contested Congressional races in New York, as the party braces for the possibility that it could lose several more House seats in the state.
AP: Obama approaches lawmaker about White House post
Barack Obama's campaign has approached Illinois Rep. Rahm Emanuel about possibly serving as White House chief of staff, officials said Thursday as the marathon presidential race entered its final, frenzied stretch with a Democratic tilt.
Washington Times: The Economist endorses Obama
The Economist is known around the world as one of the most respected weekly magazines on the issues of economics, trade and global politics.
During the 2008 presidential election, they have made many criticisms of Democratic candidate Barack Obama.
Washington Times: Gun owners fret Obama White House
The nation's gun owners have the presidential election in their sights.
Some are up at arms about the prospect of future gun legislation should Democratic presidential nominee Sen. Barack Obama win the White House.
Cleveland Plain Dealer: John McCain launches Ohio bus tour; hopes to shift poll numbers
Five days before the election, Sen. John McCain turned his attention back to Ohio, launching a two-day bus trip on Thursday that he hopes will shift the momentum in a state President Bush won in 2004 - but one in which Democrat Sen. Barack Obama holds a slight lead. Not to be outdone, Obama is expected to hold rallies in several Ohio cities Sunday.
Kansas City Star: Obama in Columbia, Palin in Cape - there's four days to go and Missouri is Swingtown
Both Barack Obama and Sarah Palin rallied in Missouri on Thursday, drawing thousands and underlining the state's electoral uncertainty in these waning days of the presidential campaign.
USA TODAY: McCain aiming for a comeback
Even the name of the place where John McCain started the day suited his mood and his closing message
Seattle Post Intelligencer: The disappearing Joe Biden
Sen. Joe Biden seems to have all but disappeared and he hasn't even been elected vice president yet. Could it mean that Sen. Barack Obama, if chosen president next week, has decided to relegate his running mate to a more traditional role than has been the case in the last two administrations?