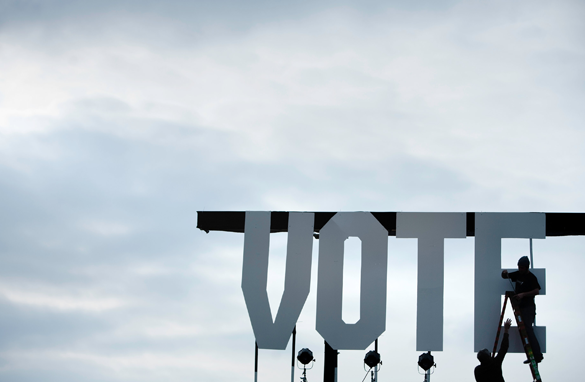 It's time for the voters to weigh in. (Getty Images)
(CNN) - John McCain has made little headway in closing the gap with Barack Obama in the national polls, a new CNN average of several recent surveys shows.
With only hours remaining until most voters head to the polls, the Illinois senator holds a 7 point lead over McCain, 51-44 percent, in the latest CNN poll of polls. That gap that has been remarkably steady since the beginning of October. (In the last 30 days, Obama's largest lead in the CNN poll of polls has been 9 points; the lowest has been is 6.)
Election Center: Check out the poll of poll trends
But McCain can take comfort in (and Democrats can still worry over) the fact Al Gore faced a similar 7-point gap in polls taken immediately before the 2000 presidential election. The former vice president ultimately won the popular vote, though he narrowly lost the Electoral College to President Bush.
The most recent CNN poll of polls consists of 10 recent national surveys: CNN/ORC (October 30-November 1), Pew (October 29-November 1), CBS (October 31-November 2), Fox/Opinion Dynamics (November 1-2), NBC/Wall Street Journal (November 1-2), ABC/Washington Post (October 29-November 1), Reuters/C-SPAN/Zogby (October 31-November 2), Gallup (October 31-November 2), Diageo/Hotline (October 31-November 2), and IBD/TIPP (October 29-November 1).
The poll of polls does not have a sampling error.