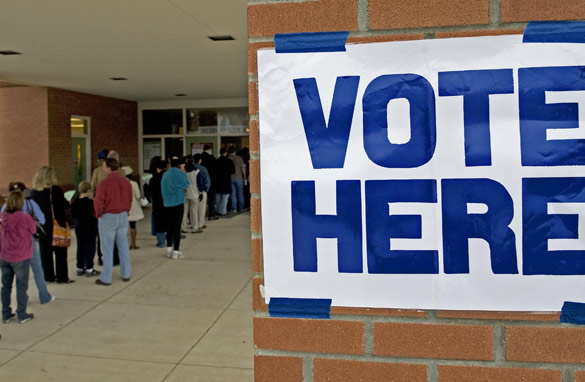 Voters line up to cast their ballots at Colin Powell Elementary School in Centreville, Virginia.(GETTY IMAGES)
WASHINGTON (CNN) – In the final hour of voting in Virginia the state continues to see record voter turnout and expects it to continue until the pools close at 7pm, state officials said Tuesday.
Up to 40 percent of Virginia's five million registered voters showed up to the polls Tuesday morning, breaking previous records and causing long voting lines, according to state election officials and CNN viewers.
The voting lines in parts of state thinned out, but in other areas like Virginia Beach voter turnout remained heavy, according to a state spokesman.
Officials said past elections generally brought about half the number of voters who showed up during Tuesday's morning rush.
Nancy Rodrigues, Virginia's executive secretary of the Board of Elections told reporters in Richmond Tuesday that by the end of the day she expected 75 percent of the registered voters to have cast ballots.
Rodrigues was not surprised by some of the voting machine problems that cropped up because of the large numbers of people showing up to the polls.
A caller to CNN's voter hotline, Marie Murphy of Norfolk, Virginia said voting lines were about four to seven hours long in Norfolk in the southern part of the state. Norfolk is in one of the heaviest populated parts of the state where lines have been long all day.
Election officials said that because of the heavy turnout voters should not expect final results to come out well into early Wednesday morning.