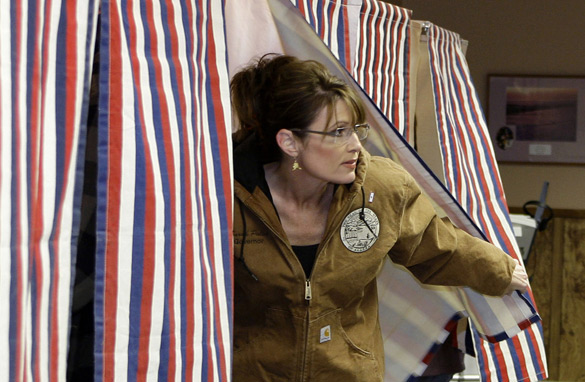 Gov. Sarah Palin cast her vote in Wasilla, Alaska and spoke to reporters about her future.(AP PHOTO)
WASILLA, Alaska (CNN) - Sarah Palin appeared calm and confident Tuesday morning during her brief sojourn to Wasilla, Alaska, where she greeted hometown supporters and cast her ballot before departing for Phoenix to join John McCain for an election night rally.
The governor voted shortly after 7 a.m. at her former workplace, Wasilla City Hall. According to the National Weather Service, the temperature at the time was 18 degrees.
Wearing jeans and accompanied by her husband Todd, Palin told reporters who had gathered to watch her vote that she is "very optimistic."
"Now tomorrow, I hope, I pray, I believe that I'll be able to wake up as Vice President elect, and be able to get to work in a transition mode with the President elect, John McCain," she said.
Palin refused to say if she had voted to re-elect Republican Sen. Ted Stevens, who was convicted last week of seven felony corruption charges.
"I am also exercising my right to privacy, and I don't have to tell anybody who I vote for, nobody does, and that's really cool about America also," she said.
Savoring her final solo appearance as a vice presidential candidate, Palin lingered for several minutes in front of local and national media, taking question after question despite multiple attempts by her staff to end the press conference.
The campaign entourage made two coffee runs while in Wasilla, stopping first in Kaladi Coffee, where the governor ordered two lattes and five regular coffees for her secret service agents.
Before leaving the shop, Palin noticed Tuesday's edition of the Anchorage Daily News, which led with the news that Alaska's Personnel Board had cleared the governor of any wrongdoing in the firing of the state's public safety commissioner. "Board exonerates Palin," blared the paper's front page.
Palin showed it to an aide and called it a "nice headline."
An hour later, she made another pit stop for caffeine, this time visiting Mocha Moose, one of the town's many free-standing coffee huts. The store's owners had hung a red banner reading "Palin Fever" by the drive-thru window.
As she waited for her beverages, a local reporter asked the governor how she envisions her role in national politics if McCain loses the election. Palin did not hesitate to muse about a future that might not include being vice president come January.
"You know, if there is a role in national politics it won't be so much partisan," she said. "My efforts have always been here in the state of Alaska to get everybody to unite and work together and progress this state."
"It would certainly be a uniter type of role," she added.
Asked if she had any regrets about the campaign, Palin bemoaned "the state of journalism today."
"The blogosphere, the two, three hour news cycles, where just too much is reported based on gossip and innuendo and things taken out of context," she explained, adding that she'd like to help improve the profession because she has "great respect for the world of journalism."