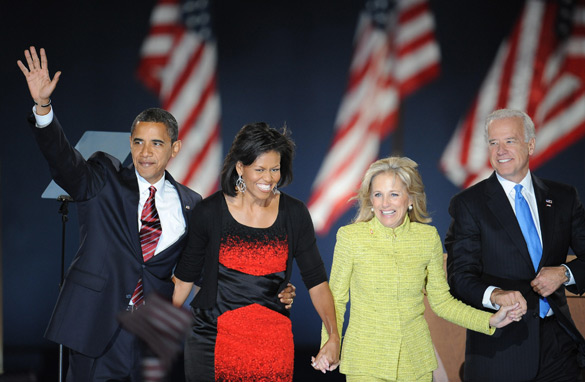 Barack Obama will have to immediately begin assembling administration, analysts say.(Getty Images)
(CNN) - Barack Obama will likely begin assembling his administration almost immediately, and cannot afford the so-called honeymoon some president-elects have enjoyed in the past, CNN analysts say.
With the nation's economy in continued turmoil, and an electorate that is overwhelmingly calling for change, the president-elect will have little time to rest over the next 2 1/2 months before he is officially sworn in.
"This is something that the Obama campaign is working on now for many months," CNN Senior Political Analyst Gloria Borger said. "Obama himself got very involved in this after the Democratic convention, I'm told."
Likely to take immediate priority is the naming of a White House chief of staff, who will help shepherd the transition. Potential names tossed around for that post include the former Clinton aide and Illinois Rep. Rahm Emanuel and former Senate Majority Leader Tom Daschle.
Watch: Obama makes history
Obama will also move quickly to put in place an economic security team, and has already held high-profile meetings with several economic advisers.
"I think people are encouraged by the kinds of people he's had around him and the names circulating for Treasury," CNN Senior Political Analyst David Gergen said.
One such name is Tim Geithner, the 47-year-old chairman of the New York Federal Reserve. Other names being discussed include former Treasury Secretary Larry Summers and Paul Volker, the former Fed Chairman under Jimmy Carter and Ronald Reagan.
"For the first time I can remember, the secretary of the treasury is going to be almost as important as the secretary of state," said Gergen, a former adviser to several presidents.
Obama will also want to communicate immediately that he is ready to assume the duties of commander-in-chief, and avoid initial mistakes Bill Clinton made during his transition process.
"He doesn't want to appear like he's not ready for prime time," CNN's Roland Martin said. "A lot of criticisms of Clinton was that he had too many young people around him who weren't experienced in Washington. Obama, who's extremely methodical, very deliberate, wants to bring it across, "I am an absolute leader, I am in charge."