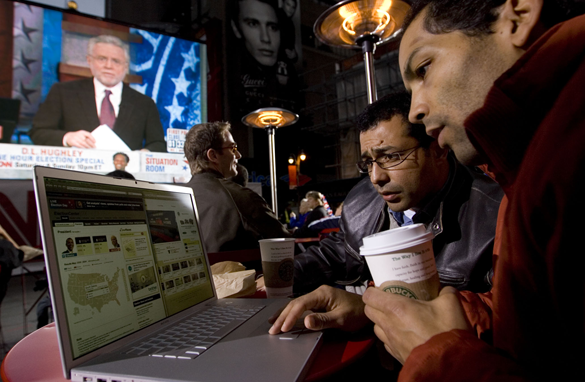 The scene in New York's Times Square on Election Night. CNN's coverage on air and online shattered records. (CNN Photo)
(CNN) - The numbers are in, and CNN's election coverage broke records across every platform.
On-air, CNN beat every broadcast and cable network Tuesday night from 8-12:30 a.m. ET with an average of 13.3 million total viewers, according to Nielsen Media Research.
ABC trailed with 12.5 million, NBC had 11.9 million, Fox News Channel posted 8.1 million, CBS averaged 7.5 million, MSBNC had 6.4 million, and FOX posted 4.7 million. In all, close to 80 million viewers tuned in to watch election night coverage.
CNN's 2008 Election Night coverage also resulted in the highest primetime ratings in the network's 28-year history. With an average of 12.3 million total viewers tuning in during primetime (8-11p), CNN had 36 percent advance over Fox News (9 million) and an impressive 109 percent over MSNBC (5.9 million). CNN also easily won the 25-34 and 18-34 demos. Compare to 2004, CNN also had the largest gains in prime time for ages 25-54, doubling its audience, up 102 percent, while FNC only increased 4 percent and MSNBC was up 87 percent.
On Election Day, CNN.com delivered the largest audience in its history with 282.5 million page views and 30 million unique visitors, more than doubling the previous record of 103.2 million and 13.4 million unique visitors on Super Tuesday, according to Omniture SiteCatalyst. CNNPolitics.com also saw record-breaking traffic with 30.1 million page views - a 43 percent increase over its previous record. The Political Ticker, the No. 1 political news blog according to Nielsen Online, generated 8.7 million page views
Meanwhile, CNN.com Live, the Internet's only multi-stream, live video news service, smashed previous records - nearly by three-fold - serving 5.3 million live streams on Election Day, with an additional 6.8 million on-demand video streams.