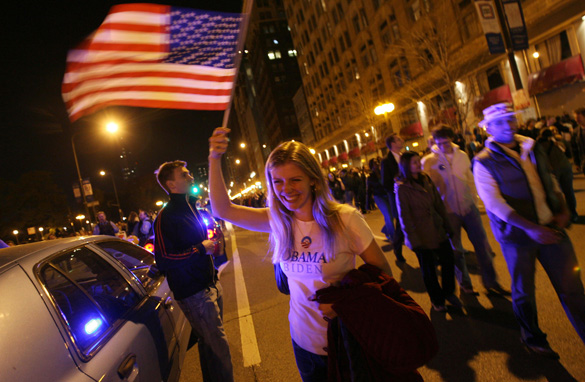 Photo by Tasos Katopodis/Getty Images
CHICAGO, Illinois (CNN)– Quite a week. Here are ten pieces of supporting evidence:
1. If my reading of statistics is correct– never a certainty when my favorite truck-stop dining companion of 2008, Bill Schneider, is off the bus– Barack Obama did something perhaps even more impressive this week than becoming the first African-American to win the presidency.
He also became the person who, in the entire history of the United States, won the most number of popular votes in a presidential election.
Granted, the population grows between each election year, thereby increasing the total possible number of votes. But still. No one has ever received more votes than Obama did this week.
2. To put the above into a little perspective:
In 2000, the year the man whom Obama is replacing as president, George W. Bush, was elected, Obama was defeated in a congressional primary– a primary– by Bobby Rush, who first came to local prominence in the 1960s as a founder of the Illinois chapter of the Black Panther Party.
Eight years later, not only is Obama president-elect, but no one– not Lyndon Johnson, not Ronald Reagan, not Bill Clinton– has ever received more votes on an Election Night.
3. You know what it looks like when football teams run onto the field between long parallel lines of high-kicking cheerleaders?
That's what it looked like for pedestrians walking north on Michigan Avenue from Grant Park after midnight on Election Night, except instead of cheerleaders there were twin lines of Chicago police officers, and they weren't doing high kicks.
Chicago felt like Pleasantville. No one leaving Grant Park– a place that has, from time to time, had its problems on big nights– was going to be mugged, panhandled, or even spoken to impolitely by strangers. Mayor Richard M. Daley desires nothing more than for Chicago to be awarded the 2016 Olympic Games, and trouble in or around Grant Park this week could have ended that dream.
Just thinking about this week's police overtime costs is enough to make you dizzy.
4. We know who the winners and the losers were this week.
But cheer for a moment for the children of an elementary school in Chambersburg, Pennsylvania, whose building we drove past in the Election Express in the early days of our journey through the nation.
They declared to their town, on a banner across the front of their school, that they had so far read a total of well over a thousand books.
By now, the students have undoubtedly read even more. They never hear applause for their diligence. But please, if you will, silently send yours their way.
5. Speaking of books, a pretty good rule of thumb is that books about losing presidential campaigns are losers themselves– no one wants to read about the candidate who didn't make it to the White House.
But this year, if I may predict: the single best political book to come out of the 2008 campaign will be one that is written about what happened to John McCain– and why.
Shakespeare is not available, but he would have gotten it right.
6. On a serious– more than serious– note:
Some of the things we heard said about Barack Obama, in big cities and small towns as we traveled toward Election Day, were– to use a word whose very definition is ambiguous these days– unprintable.
And even as he was on the stage in Grant Park, thanking his supporters, it was impossible to wash away the memory of those words. They are enough to keep a person awake far into the night.
7. On a related note:
Maybe the most chilling words we heard at Grant Park on Election Night, as we interviewed people arriving for the event, came from an African-American voter named James Lewis, 28, who had proudly cast his ballot for Obama.
We asked him: Did he believe that, by the end of the night, Obama would be the next president?
"I won't believe it even if he does win," Lewis said, a tinge of sadness in his voice. "I won't believe he's president until he is actually inaugurated."
We asked what he meant by that.
"Just what it sounds like," he said. "I worry. I hope he is elected tonight, but I won't believe he is president until the moment I see him sworn in."
And then he headed into the park, to await the results.
8. This conviction has been building for weeks now, as we have documented in increments as we traveled the country, but today it is time to make it official.
The order of finish for duos this election year, in descending rank, are:
First place, Obama and Biden.
Second place, Brooks and Dunn
Third place, McCain and Palin.
No duo in the history of music may have done anything as smart as Kix Brooks and Ronnie Dunn did this year, in uncomplainingly allowing their riveting song "Only in America" to be used as a rallying cry by both the Obama campaign and the McCain campaign. The song became inescapable– an anthem. And Brooks and Dunn made it so by being wisely diplomatic when it came to their feelings about opposing political camps leaning on their words and music.
9. Chicagoans were understanding and courteous this week when major streets were shut down before and after Obama's trip to Grant Park to acknowledge his victory.
There was a novelty to it. We don't get many presidents around here.
But if this should become routine– if Obama makes Chicago his (Mid)western White House– don't expect (Chicagoans being Chicagoans) the friendly feelings about road closings to endure.
Should this develop into a habit– should inconveniencing Chicago drivers for Obama motorcades become a regular thing– look for a shocking headline when he runs for reelection in 2012: OBAMA LOSES ILLINOIS
10. It has been less than a week since we on the bus were with Obama in Des Moines as, in the last dash of his campaign, he asked Iowans for their votes.
That was last Friday.
In the time since then, both he, and our bus, have made the trip from Des Moines back to Chicago.
It is the same number of miles. But it's safe to say, in this indelible American week, that President-elect Obama has come infinitely farther.