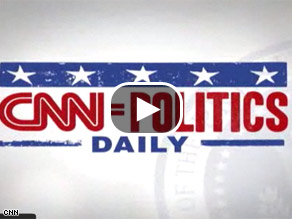 CNN=Politics Daily is The Best Political Podcast from The Best Political Team. Watch Thursday's episode.
(CNN) – Two days after winning the White House, President-elect Barack Obama is readying to assume the presidency as the nation fights two wars and tries to battle back from a struggling economy
In the latest episode of CNN=Politics Daily, White House Correspondent Suzanne Malveaux reports on Obama's choice for Chief of Staff, and who's on the short list to be the next Secretary of the Treasury.
State Department Correspondent Zain Verjee reports that people around the world are eagerly awaiting Obama's inauguration with hopes that the new president will be able to play an important role in fixing a host of global problems.
In the wake of Obama's win and a string of Democratic congressional victories that added to their majority, Republicans are tending to their political wounds and beginning to think about what they need to do to rebuild their party's damaged brand. Brian Todd takes a closer look.
Finally, Special Correspondent Frank Sesno speaks with American Morning's Kiran Chetry about the challenges President-elect Obama will likely face once he gets to D.C. - and faces the task of dealing with the ailing economy.
Click here to subscribe to CNN=Politics Daily.