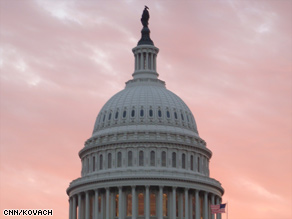 CNN: Newspapers fly off racks after Obama victory
Newsstands from Seattle to New York quickly sold out of Wednesday's papers declaring Barack Obama the nation's first black president as some jubilant customers picked up two, three or even 30 copies as keepsakes.
CNN: Obama transition began before Election Day
Even before Sen. Barack Obama won the presidential election, he was quietly building a transition team.
CNN: CNN dominates election night
The numbers are in, and CNN's election coverage broke records across every platform.
On-air, CNN beat every broadcast and cable network Tuesday night from 8-12:30 a.m. ET with an average of 13.3 million total viewers, according to Nielsen Media Research.
CNN: Analysis: High hopes and high expectations abroad for Obama
In a congratulatory letter to president-elect Barack Obama, French President Nicholas Sarkozy writes, "Your election raises in France, in Europe, and beyond throughout the world, immense hope."
CNN: Obama's election redraws America's electoral divide
Barack Obama did more than thump John McCain in the Electoral College tally; he also handily won the popular vote and redrew the great divide between red states and blue states.
CNN: Dejected McCain supporters wary of Obama
As Sen. John McCain bowed out of the historic presidential election Tuesday night, he urged his supporters to bridge their differences with Sen. Barack Obama and unite for the good of the country.
CNN Radio: Transitions and futures
Transition begins, President Bush offers an invitation to visit the White House, and will Sarah Palin stay in the national spotlight? Bob Costantini has today's CNN Radio Political Ticker.

CNN: A look back at the campaign
Watch this retrospective on the nearly two-year presidential campaign that resulted in Sen. Barack Obama becoming the first African-American nominee of a major political party and, then, the nation's first black president-elect.
CNN: Analysis: Palin rocked campaign, for good and bad
Sarah Palin's selection as John McCain's running mate redefined how vice-presidential candidates influence a campaign. Unfortunately for McCain, the Alaska governor hurt his presidential bid more than she helped.
CNN: Amanpour: World welcomes Obama with open arms, demands
A page of history has been turned and a tsunami of goodwill is rumbling across the Atlantic to the Pacific, from pole to pole and across our many continents.
CNN: Waxman working to oust Dingell
Just hours after Democrats celebrated an expanded majority in the House of Representatives, a public fight erupted for the leadership of a key committee charged with enacting many of President-elect Barack Obama's agenda items.
CNN: Men accused of plotting to kill Obama indicted
Two men accused of plotting to kill Barack Obama and other African-Americans have been indicted on charges including making threats against a presidential candidate, federal officials said Wednesday.
CNN: Praying with the President-elect
Before he delivered his victory speech on Tuesday night in Chicago, President-elect Barack Obama took a call and bowed his head in prayer.
CNN: Obama has choices for excess cash
So you've just finished a hard-fought campaign for federal office, and after paying off campaign expenses and debts, you find yourself with a tidy surplus of funds left over in your campaign coffers. What's a candidate to do?
CNN: Brigade's exit may help Obama's Iraq plan
The U.S. military will reduce the number of troops in Iraq this month as violence has dropped and Iraqi security forces have shown vast improvements, senior military officials told CNN Wednesday
CNN: Palin: 'Cannot even imagine' 2012 bid
Hours after John McCain and Sarah Palin conceded defeat to Barack Obama, the Alaska governor told CNN she can't imagine running for the top job herself in 2012.
San Francisco Chronicle: Californians may be on Obama's short list
President-elect Barack Obama has signaled that he and his campaign organizers will act relatively quickly to give shape to the incoming administration. The list of people under consideration for key appointments includes several Californians with deep political roots who were early advisers to the Illinois senator.
Boston Globe: Political scramble if Kerry joins Cabinet
US Senator John F. Kerry's widely reported place on Barack Obama's short list for secretary of state raises the possibility of dramatic changes in the Massachusetts political landscape, just days after Kerry won easy election to a fifth term.