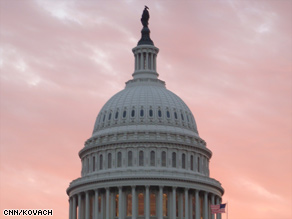 CNN: Obama looking to make impact quickly, aides say
President-elect Barack Obama is looking forward to Monday's White House transition talks with President Bush and is already examining ways to make a quick impact upon taking office, top Obama aides said Sunday.
CNN: Lieberman can still help Dems, Reid says
Senate Majority Leader Harry Reid said Sunday he's still trying to keep Connecticut Sen. Joe Lieberman within the Democratic caucus despite anger over Lieberman's support of Republican presidential nominee John McCain.
CNN: Source: Obama wants Valerie Jarrett to replace him in Senate
A prominent Democratic source close to Barack Obama confirmed Sunday that Valerie Jarrett is Obama's choice to replace him in the Senate.
CNN: Calif. governor says he's allowed 'back into the bedroom'
Republican Gov. Arnold Schwarzenegger said that even though his party didn't win the presidential election, he has at least one thing to be happy about.
CNN: Obamas, Bushes to meet at White House
Barack and Michelle Obama will get a tour of their future home Monday as they meet with the Bushes at the White House.
CNN: Emanuel brushes off 'hyper-partisan' charges
Rep. Rahm Emanuel insisted Sunday that he would help President-elect Barack Obama work in a bipartisan fashion, brushing off criticism that he would be a "hyper-partisan" chief of staff.
CNN: Obama team reviewing 'virtually every agency,' aide says
The head of President-elect Barack Obama's transition team said Sunday that the incoming administration is conducting an extensive review of President Bush's executive orders.

CNN: Franken sees boost in nail-biter election
In a move that could be seen as a benefit to Democrat Al Franken, a Minnesota judge Saturday denied a request from incumbent Republican Sen. Norm Coleman's campaign to block certain uncounted absentee ballots from being counted in a race separated by–at latest tally–just over 200 votes in Coleman's favor.
CNN: Obama inauguration tickets already offered for sale online
Organizers of the 56th Presidential Inauguration are warning consumers to be skeptical of tickets being offered for sale online to President-Elect Barack Obama's swearing-in ceremony.
NYT: Democrats Have G.O.P. to Thank, at Least in Part
The encomiums greeting Barack Obama's victory last week presented a reverse image of the darts for John Kerry after his 2004 defeat. But Kerry campaign veterans could not help noticing a surprise in the returns.
Washington Post: Under Obama, Web Would Be the Way
Armed with millions of e-mail addresses and a political operation that harnessed the Internet like no campaign before it, Barack Obama will enter the White House with the opportunity to create the first truly "wired" presidency.
Washington Post: Big Political Donors Just Looking for Favors? Apparently Not.
The Center for Responsive Politics recently estimated that it cost $5.8 billion to finance the 2008 general elections. To most people that is a staggeringly large sum and evidence of the profoundly corrupting role that money plays in politics, but to some very smart political watchers, the better question is why that amount is so small.
Washington Times: Post concedes bias for Obama
The mainstream press have been accused of being biased in favor of President-elect Barack Obama for months – a phenomenon now acknowledged by one of the nation's media heavyweights. On Sunday, The Washington Post's ombudsman, Deborah Howell, offered evidence of an "Obama tilt" in her own newspaper.
LA Times: Race for California governor gets underway
The long campaign is over. And so a new one begins: the race to succeed Arnold Schwarzenegger as governor of California.
WSJ: Condoleezza Rice: 'Find Something You Love'
As her tenure as Secretary of State draws to a close, Condoleezza Rice took time out of her day to talk to The Wall Street Journal about finding her path in life and her experiences as a female secretary of state.
Anchorage Daily News: Kurdish diplomat will speak Friday
His dad is the president of Iraq. And if his Kurdish homeland in northern Iraq were a country, 30-year-old Qubad Talabani would be its ambassador.
Boston Globe: Pentagon board says cuts essential
A senior Pentagon advisory group, in a series of bluntly worded briefings, is warning President-elect Barack Obama that the Defense Department's current budget is "not sustainable," and he must scale back or eliminate some of the military's most prized weapons programs.