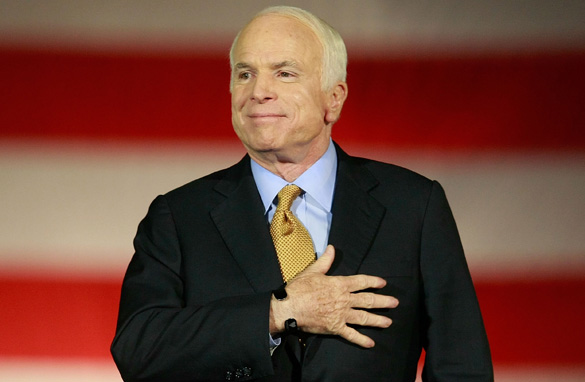 Photo by Mark Wilson/Getty Images
CHICAGO, Illinois (CNN)– When John McCain talks to Jay Leno tonight, maybe he will discuss whether he watched on television President-elect Barack Obama's Monday visit to the White House.
Or maybe the subject won't come up.
Today is Veterans Day, so expect part of McCain's appearance to be poignant. But he will undoubtedly also be funny and charming; you don't choose the "Tonight" show for your first post-election-defeat interview if you don't plan to be at least a little lighthearted. And McCain, through friends and staff members, is already putting out the word that he's doing just fine.
If he doesn't completely mean that, it's understandable. The prize he wanted so badly belongs to someone else.
But if you somehow were able to speak to him, you might point out:
He will end up having won more than 57 million votes for president during last week's election. He can take heart in the fact that 57 million Americans got out of bed last Tuesday, changed their schedules around, in some cases went out into foul weather, all so they could cast their ballots for him. Fifty-seven million votes is more than Ronald Reagan, on his best night, ever received; 57 million votes is more than Richard Nixon earned in his landslide over George McGovern. Lyndon Johnson never received 57 million votes; neither did Bill Clinton.
But the nation was smaller then, and this year 57 million wasn't even enough to make it a close contest.
The bus in which we crossed the country during the campaign is parked in Chicago during the transition, with its satellite-transmission dish aiming upward; if the election had come out the other way, we would be in Arizona. Barack Obama visited the White House this week; John McCain will visit Leno.
Senator McCain, no less than President-elect Obama, is in the midst of a transition period. And if he thinks the pain will ever completely go away. . . .
Well, take it from four pretty good authorities: it doesn't.
"In terms of speaking to former presidents," Obama famously said at his press conference here last week, "I have spoken to all of them that are living."
I set out to do that same thing, some years ago– for a book project, I set out to try to talk with all the former presidents who were at that time alive.
And the one thing I found out for certain was that, even for men who had reached that exalted level the rest of us will never attain, the hurt of having the presidency taken away is one that doesn't end. Ever.
"I thought I had earned another four years," Gerald Ford told me. "I had looked forward to it. . . ."
Years after the defeat, he could cite numbers and percentages: "You know, we came from 33 points behind, and the day of the election we were even in the polls. And then to lose. If we had carried Ohio– where we lost by 11,000 votes out of four million– and if we had carried either Hawaii, which we lost by a few thousand, or Delaware. . . ."
But he didn't carry those states, and Jimmy Carter won.
Only his wife, children and closest friends knew just how awful he felt, Ford said: "I never let it out. It's not my nature."
Carter, when he allowed me to accompany him to a speech he was making at Emory University in Atlanta, said, without prompting, to the assembled students and faculty:
"I would like to point out that I'm one of you. I've been a professor at Emory now since 1982. I reached this lofty position, thanks to Ronald Reagan, four years earlier than I planned. . . ."
The first President Bush told me that, although he sometimes wanted to get in touch with the household and kitchen staff members he had gotten to know when he was chief executive, "It's a little awkward, calling during the day to the White House after you're no longer president." He said that during the campaign in which Clinton defeated him, "I kept being told, 'Everybody else has been on MTV, you gotta show 'em you can communicate with the youth.'. . ."
In a losing campaign, he said he realized in retrospect, "What you feel like on certain days is a slow-moving target."
And Nixon, who lost his presidency in a way no one has before or since, said, of that moment on the White House lawn in the doorway of the Marine helicopter when he waved goodbye:
"I don't know. It's hard to recapture it all. At the time, I was frankly so physically and emotionally exhausted that I really didn't have any profound thoughts. I mean, I knew I was leaving, and that was that."
So if the men who became president, and who then lost the office, were still feeling wistfulness and tinges of hurt years later, the lesson is probably that it's an ache that will always be present. The lesson is not to expect it to disappear. There's no transition plan that will override that.
McCain will almost certainly be good with Leno tonight, a week to the day from when he lost the presidency. He will hear applause and supportive laughter.
Then in January he will be expected to sit with his fellow senators in the Inauguration Day audience for the swearing-in of the new president.
And you can bet that countless cameras will be trained on his face, searching for any betrayal of what is going on inside him.
Fifty-seven million votes, he received last week.
It won't matter.