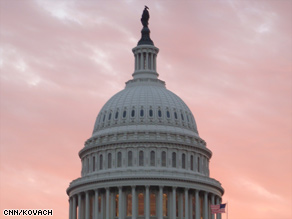 CNN: Belief that country heading in right direction is at all-time low
On the day that President-elect Barack Obama visited the White House, a new national poll illustrates the daunting challenges he faces when it becomes his home next year.
CNN: Obama team ponders what to do with Guantanamo inmates
President-elect Barack Obama's transition team has begun examining what to do with suspected terrorists at the U.S. prison camp at Guantanamo Bay, Cuba, which Obama has pledged to close, an aide said Monday.
CNN: Bushes welcome Obamas to White House
President Bush and first lady Laura Bush welcomed President-elect Barack Obama and his wife, Michelle Obama, to the White House on Monday afternoon.
CNN: Commentary: Mr. President-elect, strengthen fight against cancer
Here's something that should outrage you: Every day, more than 1,500 Americans die of cancer. Our federal government knows how to prevent many of these losses. Tragically, its attention has simply been elsewhere.
CNN: Obama inauguration tickets fetching 5 figures online
Interest in President-elect Barack Obama's inauguration is running so high that one ticket broker is asking $20,095 for a single ticket.
CNN: Judge rules civil case against Bush administration may proceed
A federal judge in Washington Monday allowed two private watchdog groups to sue the White House in a case involving potentially millions of missing e-mails.
CNN: Obama launches Web site to reach public
Barack Obama had a formidable online presence during his quest for the White House, and he is once again turning to the Internet to communicate with the American public as president-elect.
CNN: Palin says Bush record led to GOP loss
Sarah Palin told local reporters in Alaska that unhappiness with the Bush administration's Iraq war policy and spending record were responsible for the GOP ticket's defeat this year.
CNN: Sources: Jarrett headed to White House, not Senate
Two Democratic sources close to President-elect Barack Obama tell CNN that top adviser Valerie Jarrett will not be appointed to replace him in the U.S. Senate.
CNN: Former Clinton adviser to make run for governor in VA
Hillary Clinton's former campaign chairman filed papers Monday forming an exploratory committee to run for Virginia governor.
CNN: Coleman camp declares victory again, but race is far from over
For the second time in a week, Republican incumbent Sen. Norm Coleman's camp is labeling him the winner in Minnesota's far-from-over Senate race.
CNN: Laura Bush, Michelle Obama discuss daughters in White House
The White House and the Obama-Biden transition team both released statements following Barack and Michelle Obama's visit to the White House Monday:
CNN: Dean will not make another run to head the DNC
As expected, Howard Dean will hand over the reins at the Democratic National Committee when the party meets again in January.
Anchorage Daily News: Most uncounted ballots will be tallied Wednesday
Look for the needle to move on Alaska's landmark U.S. Senate race and other tight contests this week, with the Division of Elections planning to tally more than half of the uncounted ballots Wednesday.
LA Times: Schwarzenegger tells backers of gay marriage: Don't give up
The governor expresses hope that Proposition 8 would be overturned as protesters continued to march outside churches across California.
Washington Times: EXCLUSIVE: Gingrich, Steele duel privately for RNC job
A behind-the-scenes battle to take the reins of the Republican National Committee is taking off between former House Speaker Newt Gingrich and former Maryland Lt. Gov. Michael S. Steele.
LA Times: Supporters of closer Cuba ties see a chance with Obama's win
Obama probably won't be meeting with Cuban President Raul Castro any time soon. But some still hope for change.
Detroit News: Candidates vie for Mich. GOP's top job
A long list of Michigan Republicans is forming to run for the state party's chairmanship, even as the position's occupant ponders a run for higher office.
Miami Herald: Florida GOP: Obama won with our playbook
Republican political advisors say Obama's campaign has strengthened Democrats and made Florida `a different world.'