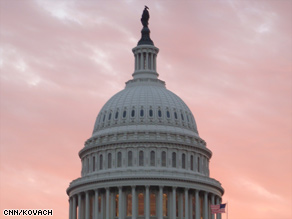 CNN: President Palin? Alaska governor ponders her future
Far from stepping out of the public eye since the Republican ticket lost the election, Gov. Sarah Palin is moving deeper into the spotlight.
Washington Times: GOP files suit to undo McCain rules
The Republican Party will file federal lawsuits Thursday seeking to overthrow the McCain-Feingold federal campaign finance regulations, Republican National Committee Chairman Robert M. "Mike" Duncan revealed Wednesday night at a private dinner with the nation's Republican governors.
CNN: Obama to be told U.S. missile defense capable, general says
The outgoing head of the U.S. missile defense agency said he'll tell President-elect Barack Obama's transition team that missile defenses are workable and working in tests.
CNN: Cheneys to host Bidens on Thursday
As the Obamas did earlier this week, the Bidens will visit their future Washington residence on Thursday afternoon, a spokeswoman for Vice President Dick Cheney said Wednesday.
CNN: Coleman says he welcomes investigation into his finances
Just hours after a liberal-leaning Minnesota group called for an investigation into allegations that Sen. Norm Coleman accepted $75,000 worth of gifts, the incumbent Republican himself said he is eager for any probe to move forward "immediately."
CNN: Albright, Leach to represent Obama at summit
President-elect Barack Obama's transition team announced Wednesday that former Secretary of State Madeleine Albright and former Iowa Congressman Jim Leach will represent the incoming administration at the G-20 economic summit being hosted by President Bush on November 15.
CNN: Palin in Obama's administration?
Former Republican vice presidential candidate Sarah Palin said Wednesday she would be honored to help out President-elect Barack Obama in his new administration, even if he did hang around with an "unrepentant domestic terrorist."
CNN: Alaska Senate race a virtual dead heat as count continues
Alaska Sen. Ted Stevens' lead over Democratic challenger Mark Begich disappeared late Wednesday, with thousands of votes yet to be counted.
CNN: Congressman sorry for likening Obama to Hitler
Republican Paul Broun is sorry for calling President-elect Barack Obama a 'Marxist' and comparing him to Adolph Hitler, the Georgia Congressman said Tuesday.
NYT: For a Washington Job, Be Prepared to Tell All
Want a top job in the Obama administration? Only pack rats need apply, preferably those not packing controversy. A seven-page questionnaire being sent by the office of President-elect Barack Obama to those seeking cabinet and other high-ranking posts may be the most extensive — some say invasive — application ever.
Washington Post: In India, a World of Hurt Over a Perceived Obama Slight
In the days after Barack Obama's historic victory, Indians began to sound just like a long-suffering South Asian mother nagging her son abroad: Why haven't you called?
Washington Post: Inaugural Parade Sidewalks Freed Up
People hoping to watch Barack Obama's inaugural parade are getting more sidewalk space on Pennsylvania Avenue to catch a glimpse of the new president's historic trek from the Capitol to the White House than in past events.
Minneapolis Star Tribune: Getting all lawyered up for Senate recount
The U.S. Senate recount will ensure a hectic holiday season for lawyers, scores of whom are expected to be deployed across Minnesota by the Coleman and Franken campaigns in the weeks ahead to monitor the counting and to prepare for a possible post-recount challenge.
Detroit News: Clash of titans: Dingell vs. Waxman
The fight for Rep. John Dingell's leadership of a key congressional committee has all the trappings of a titanic Capitol Hill clash: two influential lawmakers, powerful outside interest groups, battle lines drawn by ideology and geography and major stakes for the Michigan economy.
NYT: Head East, Young Techie
Tech geeks are tickled that come January, one of their kind will be in the White House. With the election of Barack Obama, a text-messaging Facebook user who has promised to hire the nation's first chief technology officer, Silicon Valley has a newfound interest in the inner workings of Washington, D.C.