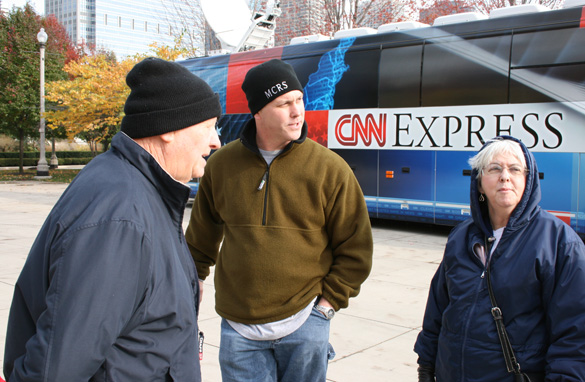 Doug, Eric, and Vickie Stanton in Millennium Park (Josh Rubin/CNN)
CHICAGO, Illinois (CNN)– Mixed messages:
"I've always thought that Chicago is the number-one city in the world," said Doug Stanton, 66, visiting from South Carolina.
"This should make even more people want to come and take a look," said his wife, Vickie, 64.
"I was here in the mid-1990s, and Chicago felt like it was in a slump," said their son, Eric, 36. "It feels different now. I think that this probably has something to do with it."
The "this" he was talking about was the election of Barack Obama, of Chicago, to the presidency. After months of rolling through different cities just about every day, our bus is now lingering in one place: Millennium Park, in downtown Chicago. We're here for the transition, because Obama, most of the time, is here.
Which is the message the world is receiving: Chicago, home of Obama, is now the political home of all things powerful and urgent.
There is another message this week, though, being heard more quietly even as visitors to Chicago talk about the high spirits of these pre-inauguration days.
"As the president-elect himself announced last Friday. . .," the tinny, distant voice said through the telephone receiver.
The voice was being listened to in political and news-organization offices around Chicago. The event was a piped-in transmission of a briefing that was being held in Washington.
The voice belonged to John D. Podesta, a co-chairman of Obama's transition team. He was saying that there will be some 450 people employed to work on the transition, and that the budget will be around $12 million. And that most of the activity will take place in Washington.
"What the president-elect is doing is taking advice from his advisers. . .," Podesta's disembodied voice was saying, and more important than the words was the implication behind them: that the hatched-in-Chicago, making-it-up-on-the-fly part of the Obama story is about to end, and the firmly-entrenched-in-Washington part is about to commence. The play-it-as-it-lays feeling and flow of the presidential campaign is officially a thing of the past.
"We're taking a look at a variety of options. . .," Podesta's voice said. The very tone– measured, careful, dry-as-chalk-dust prose instead of soaring Obama-style poetry– was a reminder that the freewheeling energy of the campaign, with the candidate from Chicago talking exuberantly many times on many stages every day to cheering crowds across the country, has mostly been replaced by others speaking for him, and doing so in the bland, nuts-and-bolts vocabulary of governance, not of vote-gathering.
"We intend to move with all due speed," said Podesta, who grew up in Chicago himself (Lane Tech, Class of '67), but who long ago became a permanent citizen of political Washington.
Nothing wrong with any of this– it would feel off-key if Obama were to be showing up at scattered places all day and all night now, making high-decibel, smiling, sky's-the-limit promises, and knocking the Republicans. That's who he was two weeks ago; this week he is president-elect of the United States.
Yet even as visitors to Chicago talk enthusiastically about being in the place where Obama lives, they are also in the place that, very soon, will be where he used to live. After January 20, he, too, will become, literally and figuratively, mostly a voice arriving from across the miles, as Podesta's was now.
". . .fundamentals of policy development and coordination," Podesta, graduate school seminar in his syntax and delivery, was saying out of the telephone line.
[cnn-photo-caption image= http://i2.cdn.turner.com/cnn/2008/images/11/14/millenniummos2.jpg
caption="Richard Degneau & Linda Giannotti (Josh Rubin/CNN)"]
In Millennium Park, Richard Degneau, 42, of Port St. Lucie, Florida, said: "So many people watched Obama's speech from Grant Park on Election Night– I think they'll want to come to Chicago to see the place for themselves, with their own eyes."
His mother, Linda Giannotti, 61, said: "People will want to come here just because he's here."
And he is, for now. During Podesta's meeting with reporters in Washington, he said that most of the business of the transition would take place right there, near the Potomac, but that announcements of major appointments– cabinet positions and the like– would be made by Obama himself, probably in Chicago.
Someone in Washington– in Chicago, you could half-hear the muffled question over the conference-call line– asked Podesta if that meant "we have to go out there next week."
"Out there" meaning: here. Chicago.
"We'll try to give you as much advance guidance as we can," Podesta's voice said.
The trips to out here will end soon enough. "This is really exciting, just being here," said Richard Degneau, in Millennium Park, enjoying it while he can.