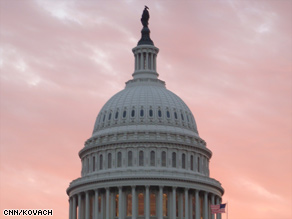 CNN: Hillary Clinton's name mentioned as possible Secretary of State
Two sources close to the Obama transition team tell CNN that Senator Hillary Clinton's name has been mentioned as a possible candidate for Secretary of State.
CNN: Poll finds great expectations for Obama
Call it a case of great expectations. A new national poll suggests that most Americans think Barack Obama will make major accomplishments as president of the United States.
CNN: Bidens, Cheneys meet in Washington
Vice President-elect Joe Biden and his wife Jill arrived at their future home at Washington's Naval Observatory Thursday afternoon and were greeted as they exited their black SUV by its current residents, Vice President Dick Cheney and his wife Lynne.
CNN: Is Romney the man to save GOP in 2012?
As Republican leaders sift through the ruins of the 2008 election and debate the party's future at the Republican Governors Association meeting this week, one of the GOP's potential standard-bearers is instead on a Caribbean cruise.
CNN: Palin blasts bailout expansion before GOP governors
Former Republican vice presidential nominee Gov. Sarah Palin sharply questioned expanding the federal economic bailout plan Thursday during her first extended remarks since the end of the presidential campaign.
CNN: Biden speaks with foreign leaders
Vice President-elect Joe Biden spoke with eight foreign leaders earlier this week, the transition office announced Thursday, to express "his thanks and appreciation for their congratulations on the election."
CNN: GOP governors unhappy with Palin press conference
Some Republican governors tell CNN they were not particularly happy with the way the Republican Governors Association press conference was executed Thursday, saying that they agreed to go as a show of GOP governors' unity — but they ended up feeling like silent Palin supporters, since it was clearly a press conference called for her.

CNN: Senator-elect Hagan drops suit over 'godless' TV ad
U.S. Sen.-elect Kay Hagan withdrew her defamation and libel lawsuit Thursday against incumbent Sen. Elizabeth Dole for a campaign commercial that Hagan alleged questioned her Christianity.
CNN: ACORN fires 2 who were probing embezzlement allegations
Community organizing group ACORN, investigated this year for filing fraudulent voter registration forms, has fired two board members it had asked to investigate allegations that an ACORN founder's brother embezzled nearly $1 million.
CNN: Women gaining political power
Shirley Chisholm, elected in 1968 as the first black woman in the U.S. Congress, once said: "I've always met more discrimination being a woman than being black."
CNN: Franken files suit for data on rejected absentee ballots
Democrat Al Franken's campaign filed a lawsuit Thursday in Ramsey County, Minnesota, requesting the names of all individuals who filed a rejected absentee ballot in the Senate race between the former comedian and incumbent Republican Sen. Norm Coleman.
CNN: Pentagon readying 'to-do' list for Obama administration
The Defense Department will give president-elect Barack Obama's transition team a list of "key decision" that the new administration will face during the first three months of its administration, a Pentagon spokesman said.
CNN: Obama announces resignation from Senate seat
President-elect Barack Obama has announced that he will officially resign his Senate seat as of this Sunday.
USA TODAY: 1 Million plus possible for Obama inauguration
President-elect Barack Obama's inauguration is expected to draw 1 million-plus to the capital, and already some lawmakers have stopped taking ticket requests and hotels have booked up.
USA TODAY: King family seeks to cash in on MLK, Obama items
Zealous guardians of his words and his likeness, the family of the Rev. Martin Luther King Jr. is demanding a share of the proceeds from the sudden wave of T-shirts, posters and other merchandise depicting the civil rights leader alongside Barack Obama.
Washington Times: Drugmaker ads to target Obama idea
The nation's largest pharmaceutical lobbying group is preparing a multimillion-dollar public relations campaign to tout the importance of free-market health care and undercut an expected push by the Obama administration for price controls of prescription drugs.