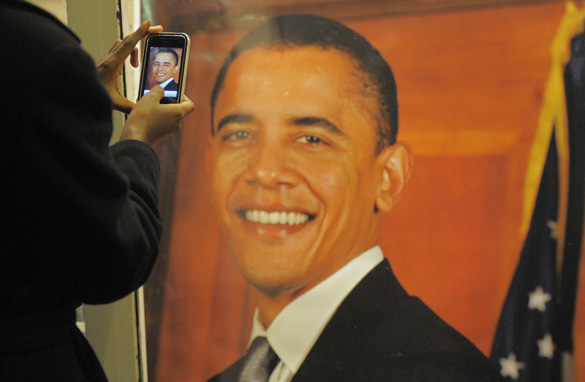 MICHAEL GOTTSCHALK/AFP/Getty Images
CHICAGO, Illinois (CNN)– Here's the thing about honeymoons:
One of their defining aspects is that the rest of the world is supposed to leave you alone.
Right.
Chicago in November is hardly the place most honeymooners would choose for their little piece of paradise, but every incoming president is granted a honeymoon period, and for his, Barack Obama is here– either in his home on the South Side, or in his transition office downtown, where John McCain is scheduled to visit with him today.
A cold snap has hit the city– no surprise there: when historians someday look back upon Obama's charmed political year of 2008, one of the eyebrow-raising facets will be that warm and balmy November Election Night scene in Grant Park; no one has that kind of good luck, but Obama did– and McCain's friend Joe the Plumber might do well to come along with him here today, because by tonight there may be frozen pipes to deal with all over town.
Obama's pre-White House honeymoon in Chicago has been festooned with several features most new presidents don't receive, and each is symbolic of the unusual amount of goodwill with which he is taking office.
For one, the Topps trading card company– the people who first became famous for packaging baseball cards with brittle pink slabs of bubble gum, and wrapping them in waxy paper for sale to eager children– is issuing a series of Obama trading cards. The company that once sold colorful cardboard images of Moose Skowron and Minnie Minoso has determined that there is money to be made in the booming Barack Obama market– a good indicator that his appeal, at least for now, goes well beyond that of most political men.
And both Chicago downtown daily newspapers have instituted a feature that, even the last time a new president took office, might not have occurred to anyone. Readers who have posed for snapshots with Obama over the years have been invited to upload those pictures to the newspapers' online sites; the photos are then displayed for all the world to see.
Computer technology has advanced enough since the last change in presidential administrations to make this an easy process for the people in the photographs. Scores of men and women have uploaded their images already; it is fascinating to see the close-to-identical Obama grin in all those pictures, pictures which once would have remained attached with magnets to family refrigerators, or tucked into wallets, or kept in the top drawers of desks.
It's too early to guess whether the public dissemination of these Obama-and-me snapshots will make them seem more special, or less. The charm inherent in posing for photos with celebrities has always been the illusion the pictures provide– an illusion with a thin veneer, granted, but a pleasant illusion nonetheless– that the private citizen in the photo with the star once had a we're-sort-of-good-pals relationship, or at least moment, with the luminary.
The uploaded I'm-with-Obama pictures provide a telling vantage point that reveals not what it must be like to be the regular person in the photo, but what it must be like to be Obama. In the pictures, he is almost without exception wearing that winning smile of his, often leaning toward the other person, sometimes allowing an arm to be thrown around him. Which makes sense, of course; when a politician agrees to pose for a photo, it would hardly be logical for him to scowl or recoil. Still, to see all those snapshots gives an inadvertent glimpse into the daily life of the sought-after one– the one destined to be stuck to all those refrigerator doors, next to the grocery lists.
The honeymoon parallels can be stretched too far– there's always the analogy of the bride who doesn't want to be seen until she strides down the aisle, and you think of Obama's reluctance to attend the economic-crisis meeting of world leaders over the weekend because he's not officially in the White House yet– but that falls apart because your typical bride doesn't appear on "60 Minutes" before the vows are said.
This particular honeymoon period, though, does seem different than most, and John McCain can be excused today if, behind his smile, he asks himself how on earth he ended up not in Arizona in November, but sitting around Chicago. And if photos are taken, he can compare them with all the others of people who have passed in and out of the life of the next president.