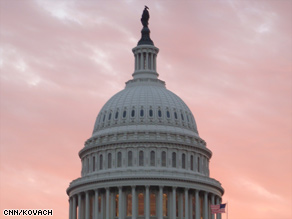 CNN: Obama and McCain set to meet in Chicago
Call it a meeting of the bipartisan minds.
President-elect Barack Obama will meet with former GOP presidential candidate John McCain Monday in Chicago, Illinois.
The meeting will take place at the Obama transition headquarters.
CNN: Obama: Stimulating economy top priority
President-elect Barack Obama said stimulating the economy is a top priority - even if it means adding to the nation's growing deficit.
CNN: South Korea would 'welcome' Obama meeting with Kim Jong Il
South Korean President Lee Myung-bak said Sunday he would "welcome" and "support" a meeting between President-elect Barack Obama and North Korean leader Kim Jong Il if Obama were to take such a step after taking office.
CNN: Obama chooses more White House positions
The man who steered Barack Obama's Senate office will now move over to the White House with the incoming president.
CNN: Bill Clinton to campaign for Martin in Georgia
Three weeks before Georgia's December 2 Senate runoff vote, former President Bill Clinton – the last Democratic presidential candidate to carry the state – will stump for his party's candidate Jim Martin, locked in a tight race with incumbent Republican Saxby Chambliss.
CNN: Franken heads to DC to ease potential transition
The hotly-contested — and yet to be decided — Minnesota Senate race may be headed for a recount, but Democrat Al Franken is already headed for Washington.
CNN: GOP senator: Republicans would 'love to have' Lieberman
Two members of the Senate's Democratic caucus have called for Joe Lieberman to lose his committee chairmanship. On Sunday, North Dakota Sen. Byron Dorgan didn't go that far — but did say the Connecticut senator's actions during the campaign were "not acceptable," as Republican Sen. Jon Kyl said the GOP would "welcome [Lieberman] with open arms."

CNN: Giuliani won't rule out runs for NY governor or president
Rudy Giuliani told CNN Sunday the failure of his presidential bid this year didn't mark the end of his political career — and that his future could include another White House run.
CNN: Republicans praise idea of Hillary Clinton as Secretary of State
Republicans praised the prospect of Secretary of State Hillary Clinton Sunday.
Former Nixon and Ford Secretary of State Henry Kissinger said Sunday that Clinton would be an "outstanding" selection.
NYT: Lose the BlackBerry? Yes He Can, Maybe
Sorry, Mr. President. Please surrender your BlackBerry.
Those are seven words President-elect Barack Obama is dreading but expecting to hear, friends and advisers say, when he takes office in 65 days.
NYT: For Obama, a Scouting Report on Athletic Heads of State
Barack Obama still moves with the ease of an athlete and has the left-handed jump shot to prove it, along with a state high school basketball championship to his credit, as a senior at Punahou School in Hawaii in 1979.
Richmond Times-Dispatch: Voter turnout in Va. sets a record, barely
Virginia's voter turnout set a record in the 2008 presidential election, but for all the attention given to this battleground state, the percentage was not much higher than in 2004.
Washington times: Cantor says GOP is no longer 'relevant'
Rep. Eric Cantor of Virginia, poised to ascend to House Republicans' No. 2 leader this week, said the Republican Party in Washington is no longer "relevant" to voters and must stop simply espousing principles. Instead, it must craft real solutions to health care and the economy.
WSJ: Obama Dips Into Think Tank for Talent
The Center for a New American Security, a small think tank here with generally middle-of-the-road policy views, is rapidly emerging as a top farm team for the incoming Obama administration.
Washington Post: Obama Wrote Federal Staffers About His Goals
In wooing federal employee votes on the eve of the election, Barack Obama wrote a series of letters to workers that offer detailed descriptions of how he intends to add muscle to specific government programs, give new power to bureaucrats and roll back some Bush administration policies