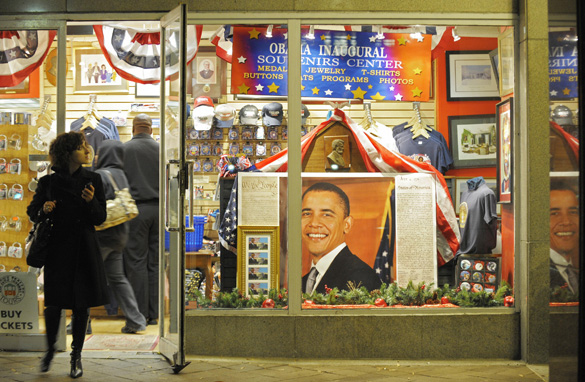 MICHAEL GOTTSCHALK/AFP/Getty Images
CHICAGO, Illinois (CNN)– As Barack Obama marks time here and frets about the sinking economy before his move to the White House, he faces a peculiar and striking dilemma on the financial front:
The one segment of American business that is booming is the Barack Obama business.
Everything with his face or his name on it is flying off retail shelves. But he can't take advantage of it– a president is not permitted to profit personally from the sale of his own image.
Yet a case can be made that, were Obama to take his name and likeness and sign their licensing rights over to U.S. industries that are in deep trouble, he might be able to save those corporations.
A joke, of course.
Sort of.
When the chief executives of the Big Three automakers went before Congress yesterday and today and all but begged for financial assistance, it was difficult to look at General Motors CEO Rick Wagoner and not want to point out to him:
GM has a ready-made solution. The company did away with its Oldsmobile line four years ago, because the brand had become unfashionable. Just bring it back and, with the incoming president's permission, call it the Obamamobile. The way things are going these days in the Obama business, the highways would soon be jammed with them. Foreign carmakers would cower.
Obama has already demonstrated his ability to be a one-man stimulus package. The newspaper business, which has been hearing mournful news about itself for so long that it has started to half-believe it lives under a permanent cloud, was caught by surprise when readers began lining up the day after the presidential election, clamoring to purchase sold-out copies of the "Obama Wins" editions. Those three beautiful words were uttered at newspaper plants across the U.S.: "Start the presses!"
Same with the book-publishing business. There have been predictions that this will be a dreary holiday season for booksellers, but a bright spot is turning out to be books about (and by) Obama– books that are already in the stores, and yet-to-be-written books whose authors are fervidly being signed to contracts.
The thing about the Obama business boom is that it has gotten so widespread that people think you're pulling their legs when you talk about the details. The other day we reported here that Topps, the baseball-card company, is preparing a set of Barack Obama trading cards. Some readers thought we were being satirical. We weren't– it's true.
(It's like the people on the opposing political side who accused Obama of measuring his face for Mount Rushmore before he even is sworn in. What they couldn't have foreseen is what has happened in the Caribbean island nation of Antigua and Barbuda: the prime minister, W. Baldwin Spencer, has proclaimed his intention to take his nation's highest point, which is called Boggy Peak, and rename it Mount Obama.)
So if the incoming president is losing sleep at night thinking of ways to turn the economy around, all he has to do to find the answer is look in the mirror.
There's nothing too outlandish that you can rule it out. For example:
I was going to suggest, as a too-ridiculous-to-believe proposal, that in order to raise funds for the government, Obama should take U.S. currency, arrange to have his face printed on it, and then sell the money to citizens at multiples of face value.
But if you've been watching television commercials lately, you know that someone has already thought of it. Those Obama commemorative inaugural dollar coins, face value $1, are being sold– for a limited time– at a bargain TV rate of $9.95 apiece (plus $4.95 shipping and handling).
Offer valid only while supplies last.