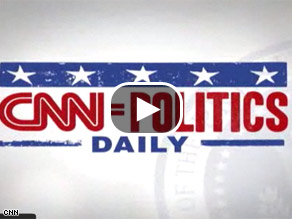 Watch Wednesday's episode of CNN=Politics Daily, The Best Political Podcast from The Best Political Team.
(CNN) – A top enemy of the United States has weighed in on the next president.
In the latest episode of CNN=Politics Daily, Pentagon Correspondent Barbara Starr reports on a message that surfaced Wednesday that is purportedly from Ayman al-Zawahiri, al Qaeda's second-in-command. The message insults President-elect Barack Obama using a derogatory term for African-Americans.
White House Correspondent Ed Henry reports from Chicago with the latest on the reaction from the Obama camp.
State Department Correspondent Zain Verjee also takes a look at how former President Bill Clinton's business deals, speaking engagements, and views on foreign policy issues might impact his wife's diplomatic work should she ultimately be named the next secretary of state.
Finally, watch Chief National Correspondent John King and several other familiar faces from CNN as they take part in The Daily Show's spoof of CNN's Magic Wall.
Click here to subscribe to CNN=Politics Daily.