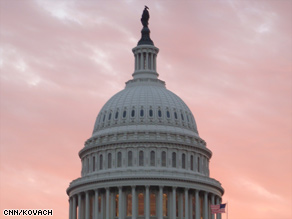 CNN: Sources: Holder is Obama's choice for attorney general
Former Clinton Deputy Attorney General Eric Holder is President-elect Barack Obama's choice for the position of attorney general, according to two prominent Democrats involved in transition matters.
CNN: Lieberman credits Obama after Dems let him keep post
Democrat-turned-independent Sen. Joe Lieberman managed to keep his Senate committee chairmanship in part because President-elect Barack Obama didn't want to punish him for supporting Sen. John McCain, Lieberman said Tuesday.
CNN: Source: Orszag tapped for Office of Management and Budget
President-elect Barack Obama has picked Peter Orszag, the head of the Congressional Budget Office, to head his Office of Management and Budget, a top Democratic source told CNN Tuesday.
CNN: Begich claims victory over Stevens for Alaska Senate seat
Alaska Sen. Ted Stevens, the Republican lawmaker convicted on felony corruption charges in October, appears to have lost his bid for re-election to Democrat Mark Begich, according to a release from Begich's campaign and unofficial results from state officials.
CNN: McCain makes move to run for re-election, CNN has learned
CNN has learned that John McCain met Tuesday night with top advisers to start the process of setting up a political action committee.
CNN: Bush daughters give tour to Obamas
Jenna and Barbara Bush, the president's daughters, personally toured Barack Obama's daughters around the White House Tuesday, a White House spokeswoman said.
CNN: Cheney, Gonzales indicted for alleged prisoner abuse
Vice President Dick Cheney and former Attorney General Alberto Gonzales have been indicted on separate charges related to alleged prisoner abuse in federal detention centers, Willacy County, Texas, District Attorney Juan Angel Guerra told CNN Tuesday.
CNN: The end of Don't Ask, Don't Tell?
The lead sponsor of a bill to overturn the controversial Don't Ask, Don't Tell law said the law could conceivably be passed in the first year of President-elect Obama's administration.
CNN: McCain may face bumpy shift from White House run
Two weeks after losing his bid for the presidency in an electoral landslide, Sen. John McCain is beginning the thorny transition back to life out of the spotlight as he weighs his future role in the Senate.
CNN: Stevens says he won't seek pardon from Bush
Sen. Ted Stevens, R-Alaska, who was recently convicted on seven felony counts, said Tuesday he won't ask President Bush to pardon him.
"No, no, no," Stevens responded emphatically when asked if he would seek a pardon.
CNN: Clinton still millions in debt
A source tells CNN that Barack Obama's presidential campaign raised $800,000 to help pay down Senator Hillary Clinton's debt from her bid for Democratic presidential nomination.
CNN: The CNN List: Obama's successor still unknown
President-Elect Barack Obama resigned from the Senate earlier this week setting off a mad scramble to fill the two remaining years of his six-year term representing Illinois.
Washington Times: EXCLUSIVE: Steele chastises 'country club' GOP
Republican National Committee Chairman candidate Michael S. Steele castigated Republican Party leadership Tuesday for having a "country club" mentality and being out of touch, and said if he is chosen to represent the party, he will help transform it into an inspiring choice for young and minority voters.
WSJ: Georgia Runoff Exposes Gaps in Finance Law
The runoff for a U.S. Senate seat in Georgia is providing a stark example of how candidates in the 2008 election have been able to skirt campaign-finance limits - without actually breaking the law. Federal campaign-finance law limits individuals to donating $2,300 to a candidate per election. Yet Republicans and Democrats are soliciting donations more than 10 times that amount for the Dec. 2 runoff in Georgia.
NYT: Romney Spreads the Wealth in Georgia
Who said anything about 2012? Not Mitt Romney.
Detroit News: Dingell gets boost ahead of key vote
A high-stakes battle gets under way today over whether Rep. John Dingell, a longtime ally of the Big Three domestic automakers, stays on as chairman of the House Energy and Commerce Committee.
AP: Will Clinton pardon of tax fugitive haunt Holder?
The first black man elected U.S. president is poised to name Washington lawyer Eric Holder as the nation's first black attorney general – a historic appointment but one with some potential political problems over a 2001 pardon.