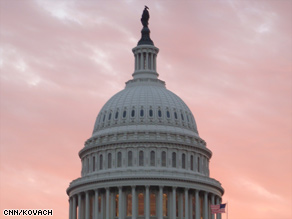 CNN: Obama will 'do what's necessary' to fix economy, aide says
President-elect Barack Obama's top adviser insisted Sunday that Obama's economic plan would be big enough to handle the country's financial challenges, but he declined to speculate about how large the plan would need to be.
CNN: Richardson expected to be commerce secretary, sources say
Two Democrats close to the transition tell CNN that New Mexico Gov. Bill Richardson is now expected to be nominated as Secretary of Commerce by President-elect Barack Obama, pending the final vetting process.
CNN: Forbes: Paulson is 'worst' treasury secretary in modern times
Forbes magazine President and CEO Steve Forbes called Treasury Secretary Henry Paulson "the worst treasury secretary we've had in modern times", citing, among other things, the government's handling of the housing crisis.
CNN: Karzai: Obama promises Afghanistan more aid
Afghan President Hamid Karzai said President-elect Barack Obama assured him Saturday that the United States would send more aid and pay more attention to his war-torn country, according to Karzai's office, but Obama aides declined to confirm the call had included specific promises.
CNN: Why's Bobby Jindal in Iowa?
Bobby Jindal's in Iowa today. Louisiana's Governor will make a stop in Cedar Rapids to tour some of the damage from devastating floods earlier this year. He'll also participate in a fundraiser with some of the victims from the flooding.
CNN: Secret service steps up inauguration security
Law enforcement officials bracing for the largest crowds in inaugural history are preparing far-reaching security — thousands of video cameras, sharpshooters, air patrols — to safeguard President-elect Barack Obama's swearing-in.
CNN: Al Gore to lend star power to Georgia Dem's Senate runoff
Add Al Gore to the list of big-name surrogates who are making campaign cameos in the last remaining Senate election this year. The former vice president will team up with Jim Martin at a campaign event Sunday in Atlanta, Georgia.
Des Moines Register: Vilsack won't be named Ag Secretary
Former Iowa Gov. Tom Vilsack today said that he won't be the next agriculture secretary, ending speculation that an Iowan would snag the post important to a large swath of the state's economy.
In an e-mail, Vilsack said he had never been contacted by aides to President-elect Barack Obama about that position or any other.
NYT: Initial Steps by Obama Suggest a Bipartisan Flair
In the third week of his transition to power, President-elect Barack Obama is working to build a cordial relationship with Republicans by seeking guidance on policy proposals, asking for advice on appointments and hoping to avoid perceptions of political arrogance given the wide margins of his victory.
Washington Post: Much to His Chagrin, 'Plain Old Barack Is Gone'
A familiar number showed up on Terry Link's cellphone last week, the one that belonged to the friend he tutored in politics, dominated in golf and sometimes referred to playfully as "Ears."
AP: Americans rush plans for Obama inauguration
Pattie Brew, daughter of a North Carolina sharecropper, had let almost a century go by without casting a vote for president or joining the inaugural crowds only three miles from her home in the nation's capital.
Boston Globe: Learning more than history at Plimoth
It may be 2008, but staff members at Plimoth Plantation's Wampanoag Homesite regularly have to ask little boys to stop war-whooping and little girls to remove costume feathered headdresses and beaded dresses brought from home.
LA Times: Clinton's potential pitfalls seen in FDR's secretary of State
Like Cordell Hull, she could find herself marginalized because she hasn't been close to the president she would serve. Her future ambitions could also complicate her job.
Washington Post: Who Are the Better Managers - Political Appointees or Career Bureaucrats?
Every time the White House changes hands between the Democrats and the Republicans, the outgoing party quickly sees the virtues of staffing government departments with competent managers.
Miami Herald: Diaz-Balarts face new political reality in D.C.
Democrats failed to oust Miami's Diaz-Balart brothers from office, but now the brothers find themselves in a Capitol ruled by Democrats.