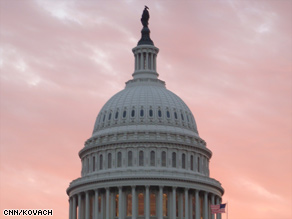 CNN: President pardons 14, commutes sentences of two others
Who might receive the ultimate in White House holiday gifts — a presidential grant of clemency — is one of the hottest Washington guessing games today.
CNN: Sources: Obama to name Orszag as OMB nominee Tuesday
President-elect Barack Obama on Tuesday will unveil Peter Orszag as his nominee for director of the Office of Management and Budget, two sources close to Obama's transition operation told CNN.
CNN: House aides: Dems looking for 'more meat' on stimulus plan
A House Democratic aide told CNN Monday that if the Obama administration hopes to get an economic stimulus package through the House in January then they will have to "put a lot more meat on it" and "get people in and justify it."
CNN: Ex-Bush speechwriter: Obama would 'control' Clinton in Cabinet
The notion of President-elect Barack Obama creating a team of former rivals to be in his Cabinet has attracted a lot of attention, especially with news that Sen. Hillary Clinton reportedly is on track to be secretary of state.
CNN: Former Biden advisor picked as Senate replacement
Vice President-elect Joe Biden's former chief of staff, Ted Kaufman, will fill his seat in the Senate, Delaware Gov. Ruth Minner announced Monday.

CNN: Borger: Obama takes ownership of the economy
At long last, a team. And it's formidable.
CNN: Pro-Palin 'thank you' ads hit the airwaves
Election Day was three weeks ago, but political ads praising former Republican VP nominee Sarah Palin are still hitting the airwaves.
CNN: Huckabee weighs in on GOP's future
If the Republican Party wants to get back on track, former presidential candidate Mike Huckabee says GOP leaders must first restore voters' confidence in the government.
NYT: The Congressman, the Donor and the Tax Break
Representative Charles B. Rangel has helped raise $11 million for a City College of New York school of public service to be named in his honor. In recent months, as questions have emerged about his fund-raising, he has insisted that he has kept his efforts to attract donors scrupulously separate from his official duties in Congress.
Washington Post: Disasters, Recoveries and FEMA
The Federal Emergency Management Agency, a tragicomic disaster since Hurricane Katrina in August 2005 - and even before that - looks to be getting a facelift under the Obama administration, sources tell us.
USA TODAY: Report says Obama's small-donor base claim is off
Despite attracting millions of new contributors to his campaign, President-elect Barack Obama received about the same percentage of his total political funds from small donors as President Bush did in 2004, according to a study released today by the non-partisan Campaign Finance Institute.
NYT: For Lobbyists, No Downturn, Just a Turnover
Richard Hunt, a top Republican lobbyist for the securities industry, was among the first to go, just a week after the election.
Washington Times: Cheney, Biden alike in little but title
They both have white hair, a tendency to curse and more years of experience than the presidents for whom they serve – but the few similarities shared by Vice President-elect Joseph R. Biden Jr. and Vice President Dick Cheney are far outshined by their stark differences.
Washington Times: Women's groups silent on Summers pick
When word got out that President-elect Barack Obama might choose Lawrence H. Summers to assume the same Treasury secretary post he once held, women's groups still angry about remarks he made in 2005 about women and math made their voices heard.
AP: Obama's tax hike for the rich may be delayed
An economic crisis, rising joblessness and a credit squeeze can make a president-elect refine his words. Today's word is "repeal."