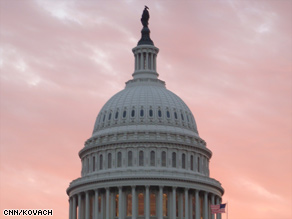 CNN: Gates expected to stay on as Obama's defense secretary
Several officials close to President-elect Barack Obama's transition tell CNN that Defense Secretary Robert Gates is expected to stay on the job for at least the first year of the new administration.
CNN: Rep. Rangel rebukes 'inflammatory' media report
U.S. Rep. Charles Rangel on Tuesday responded to what he called an "inflammatory" New York Times article that questions the New York Democrat's ethics.
CNN: Ex-first lady Barbara Bush hospitalized for tests
Former first lady Barbara Bush will spend the night in a Houston, Texas, hospital Tuesday night after falling ill, according to a family spokeswoman.
CNN: McCain says Palin has a 'very bright future' as a GOP leader
Former GOP presidential candidate John McCain denied Tuesday that political considerations — a desire to appeal to Clinton supporters — played a role in his selection of running mate Sarah Palin, calling her "an energizing factor" and telling reporters the Alaska governor has a "very bright future in a leadership position in the Republican Party."
CNN: Palin to hit campaign trail in Georgia
Republican vice presidential nominee Sarah Palin will make multiple campaign appearances on behalf of Sen. Saxby Chambliss next week in Georgia, serving as the political closer for the GOP senator who is battling to win a second term.
Washington Post: Inaugural Rehearsal Set for Jan. 11
Can't get tickets to the inauguration? No hotel rooms to be had that week? No problem. Avoid the crowds, traffic and expense, and check out the inaugural rehearsal.
Washington Times: Incoming green Congress turns free-marketers blue
With the recent election coloring Congress an even darker shade of blue, the intensity of green legislation is expected to follow suit — a projection Democratic lawmakers are eager to confirm.
San Francisco Chronicle: Feinstein recalls S.F.'s 'day of infamy'
Thirty years after the assassinations of Mayor George Moscone and Supervisor Harvey Milk in San Francisco City Hall, Dianne Feinstein still wonders whether she could have stopped the killings.
Detroit News: Economic reality to take some pizzazz out of auto show
The mood will be sober, there will be fewer automakers in attendance, and there won't be as many off-site lavish parties at this year's North American International Auto Show given the dire economic cloud hanging over the auto industry.
Miami Herald: Presidential partners: Obama and Bush team up on financial crisis
America has never seen anything quite like this: the president and president-elect acting like co-presidents, consulting and cooperating on the day's biggest crises.
Minneapolis Star Tribune: Senate recount: Lost, found, challenged
Minnesota's U.S. Senate race took a dramatic turn Tuesday with a pair of developments involving absentee ballots: One county acted on its own initiative to count several ballots that it said were wrongly excluded, and two prominent county attorneys proposed a statewide process to reexamine rejected ballots.
Omaha World-Herald: Nebraskans out of Iraq — for now
The Nebraska National Guard's deployment to Iraq has dropped to zero after the return of a Lincoln-based medical battalion.
Washington Post: Inaugural Gift Limits, Co-Chairs Announced
President-elect Barack Obama will not accept inaugural contributions from corporations, political action committees or registered lobbyists, and individuals will be limited to donations of $50,000, according to his newly formed inauguration committee.
NYT: For Biden, No Portfolio but the Role of a Counselor
The day before Joseph R. Biden Jr.'s birthday last week, Barack Obama surprised him after lunch with candlelighted cupcakes. Within hours, the photograph of the president-elect and his running mate, smiling over the dessert, was on the evening news.